Shoots huge 12K images in Blackmagic RAW format, ready to edit in full-res on a laptop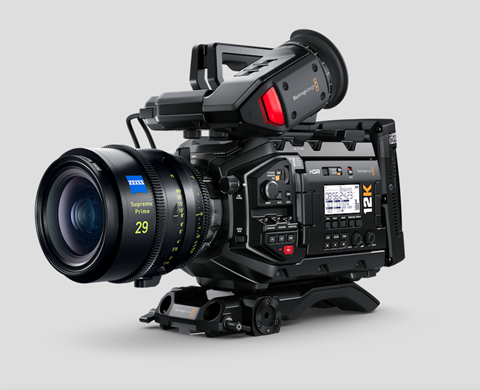 Blackmagic Design has unveiled a 12K (12,288 x 6,480) digital film camera for US$9,995 (£7,800).
The URSA Mini Pro 12K has a 12K Super 35 image sensor; 14 stops of dynamic range; and high frame rate shooting up to 60 fps in 12K (110 fps in 8K and 220 fps in 4K), at 80 megapixels per frame.
It's built into the familiar URSA Mini body, with an interchangeable PL mount; built in ND filters; dual CFast and UHS-II SD card recorders; and a SuperSpeed USB-C expansion port.
While 12K (10 times the resolution of Ultra HD) seems an extraordinarily high resolution in an industry just getting to grips with 4K UHD, Blackmagic says shooting in 12K results in better quality 8K and 4K images, with "subtle skin tones" and "extraordinary detail".
Shooting in 12K also enables you to reframe or crop multiple shots in post-production for delivery in 8K and 4K.
Blackmagic is pitching the camera at feature films, episodic television and immersive, large format IMAX, and for green screen VFX work, especially compositing live action and CGI.
The URSA Mini Pro 12K captures images in Blackmagic RAW, which reduces the file size down sufficiently to enable laptop editing of the full-res images.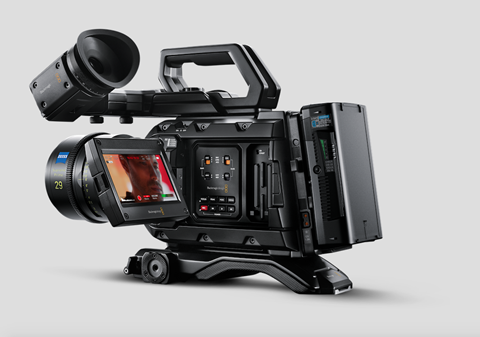 Blackmagic RAW also stores camera metadata; lens data; white balance; digital slate information; and custom LUTs for consistency of image on-set and through post-production.
The camera has Blackmagic Generation 5 Color Science with a new film curve "designed to make full use of the massive amount of colour data from the new URSA Mini Pro 12K sensor," says Blackmagic. "This delivers even better colour response for more pleasing skin tones, and better rendering of highly saturated colours such as neon signs and car tail lights in high contrast scenes."
The camera will be available before the end of this month from Blackmagic Design resellers worldwide. It ships with a full version of DaVinci Resolve Studio.
Grant Petty, CEO, Blackmagic Design, said: "With Blackmagic URSA Mini Pro 12K we have advanced imaging technology into a new generation where new styles of shooting will be possible. It's not just the 12K sensor, but there is so many other innovations in this camera. It's going to be exciting to see what DOPs do creatively with this technology."
Blackmagic URSA Mini Pro 12K Features
12,288 x 6480 12K Super 35 sensor.
Use for feature films, VFX and high end TVC's.
14 stops of dynamic range and native 800 ISO.
Blackmagic RAW for real time 12K editing.
Generation 5 Color Science with new film curve.
Shoot up to 60 fps in 12K, 110 fps at 8K and 220 fps at 4K.
Dual card CFast recording at up to 900MB/s.
PL mount included, EF and F mounts available.
SuperSpeed USB-C for recording to external disks.
Includes DaVinci Resolve Studio for post production.
Compatible with new Blackmagic URSA Mini Recorder.