The pandemic has provided the impetus for a far more connected and flexible news operation, says Morwen Williams
If there's one thing the Covid-19 pandemic has taught us in broadcasting, it's the need to work more flexibly, enabling staff with the right tools to be able to work from wherever they need to: on location, in the office or at home.
Furthermore, Covid-19 has made us more reliant on automated vision mixing and delivery in our TV studios, to allow social distancing for our teams.
In BBC News, we already had plans and ambitions to create a more remote-capable, connected newsroom. Prior to the pandemic, we'd launched our online planning and deployment tool, Wolftech, and this helped as our teams went into lockdown, quickly having to transition to working from home.
Wolftech is technology that's helped us all work together more closely. We can co-ordinate teams, share stories and react more quickly.
Lockdown meant that effective collaboration tools were essential, to enable people to produce the news together – to work on their content at the same time but in different locations. At one stage, we had an international story being worked on three different continents at the same time.
However, we found some of our core production tools didn't perform quite so well away from the building. Going forward, everything needs to be more cloud-based. The ability to work anywhere, any place, any time, without so much dependency on our existing infrastructure, is the real prize to enable us to keep on delivering for our audiences.
Video content sharing, an image management tool, cloud editing and connected cameras with the ability for producers to remotely access video from the field were all in the pipeline.
Through necessity, Covid has sped up some of this. Throughout lockdown and when we emerged from it, we needed to take the opportunity to reshape the model we had, which was mainly building and vehicle-based.
Remote production and the delivery of some programming from homes was stepped up, from the obvious – with on-air presenters at home both on radio and TV – to the 'you'd never know', with us remotely directing a social broadcast for our Vietnamese service via VMix from one of the team's home.
We are now looking for more opportunities for remote production of 'live' events, as many of the autumn and winter schedules of the usual party conferences and events like the World Economic Forum will look very different.
"Necessity drove us to deliver new workflows more swiftly than any of us could have imagined a year ago. Opportunity will enable us to take that to the next level"
Innovation was rife among our teams: rising to the challenges of how we keep doing high-quality broadcasting for our audiences at a time when people needed news more than ever; and how we keep those audiences entertained, enlightened and still involved with our broadcasting while keeping people safe. We developed a suite of virtual production tools that solved the issues of recording multiple contributors in quality for radio and TV. We also returned the live audience to some of our much-loved radio shows.
BBC News camera crews had to grapple with the difficult task of trying to set up interviews via many different consumer messaging apps when we couldn't get to our guests in person. Recording the output from these for BBC News content was equally challenging. Our team devised and built a system quickly to meet that challenge and create one workflow for our newsgathering teams.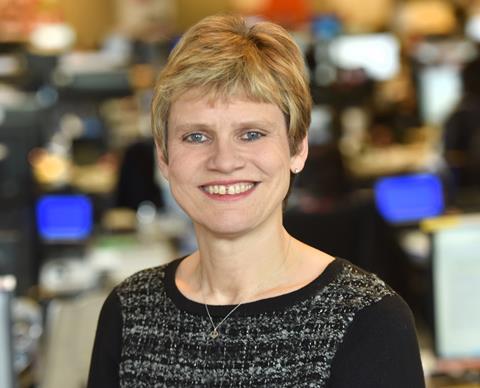 In our TV studios, we have relied more on automation, which is needed for social distancing in our galleries. Throughout this pandemic, our vision mixing has been automated for news – and that's something we will continue to do for many of our programmes.
Some of these changes mentioned are here to stay. Necessity drove us to deliver new workflows more swiftly than any of us could have imagined a year ago. Opportunity will enable us to take that to the next level.
Morwen Williams is director of UK operations, BBC News