Recent work in VFX reaches new levels of creativity
HIS DARK MATERIALS
PRODUCTION Bad Wolf
VFX Framestore
WATCH IT BBC iPlayer
Framestore delivered more than 1,400 shots of film-quality visual effects for the second series of His Dark Materials. It follows the VFX house's Bafta-winning work on the first series.
VFX supervisor Russell Dodgson says of Framestore's work this time around: "In series two, we have vast new cities to explore and new enemies to face, but we have also been given the chance to build out characters and ideas from the first series. Our artists grew and developed the characters they were working on."
Framestore's work spanned characters, huge aerial bombardments and warring airships. It also worked with design studio Painting Practice on the construction of environments such as the Cittàgazze.
VFX exec producer James Whitlam says: "Being embedded with the Bad Wolf creative team has played a huge part in the success of the show's VFX. It feels like we're able to offer advice and expertise every step of the way, whether it's making a minor tweak to achieve a more nuanced performance or explaining why Russ needs to go off in a helicopter to capture amazing plate photography. We're all pulling in the same direction to service the needs of the story."
Finishing the production in lockdown meant some interesting challenges for the Framestore team, says Whitlam: "We found ourselves asking our second-unit DoP to shoot pick-ups with props in his garage, or helping coach our daemon voice cast over Zoom. Russ was quite literally wearing different hats so we could get the framing right when picking up additional VFX plate footage."
Framestore global managing director of film Fiona Walkinshaw adds: "Our artists raised the bar for episodic VFX with the first series, and it seems like their Bafta win has spurred them on to even greater creative heights."
SPITTING IMAGE
PRODUCTION Avalon
POST-PRODUCTION The Farm Group/Ghost VFX UK
WATCH IT BritBox
The return of Spitting Image is being post-produced both in-facility and remotely by The Farm and Ghost VFX UK. Episodes of the fast-turnaround series air each Saturday, with the bulk of the audio post-production completed before the puppets perform to camera on a Thursday.
Scripts are performed, recorded and edited close to transmission, with Farm dubbing mixers Nick Fry, Filipe Pereira and Jamie Selway working until the last minute to keep the show as up to date as possible.
Audio is mixed on ProTools 2020, and during lockdown The Farm had to work within the local restrictions of the voice actors' base to enable recordings.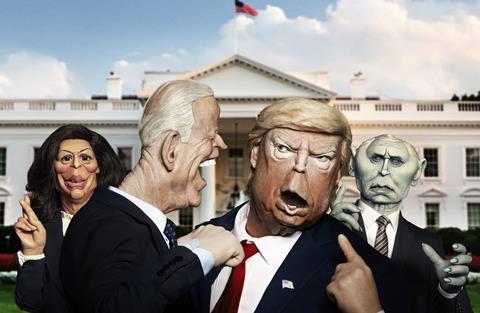 Some actors have been able to go into one of the company's buildings and record in person, while those outside London have the option to attend a studio closer to them or record from home using Source Now and SessionLink Pro.
Pereira says: "Creating Spitting Image in a time of a global pandemic has been a technical and creative achievement for everyone involved. We have successfully recorded multiple actors worldwide, seamlessly communicated and worked with the showrunners and editors, and last but not least, helped the comedy come to life by taking the time to carefully mix each sketch."
Meanwhile, The Farm's Ghost VFX team has worked on set extensions, clean-ups and explosions, adding blood and removing wire. Most of the work is completed on Autodesk Flame by lead flame artist Gabriel Valente, with Nuke and Mocha also used.
With the VFX artists working remotely, hardware has been shipped out, enabling them to remote into any workstation at up to 2K resolution.
Valente says: "It is really important that we can work in more than one software and we have many workstations available. The most important thing is we have a team of skilled artists who can jump on it should we need extra help."
The series is post produced by Paul Jones, while the VFX are produced by Daniel Smith.
EQUAL
PRODUCTION Warner Horizon Unscripted Television
TITLES/VFX Blue Spill
WATCH IT HBO Max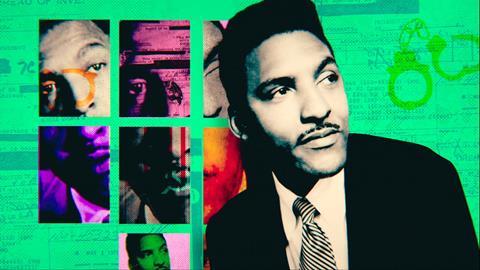 The visually striking title sequence for this docu-series, about the history of the LGBTQ civil rights movement, was completed by Blue Spill, working closely with an LA-based production team.
The look developed for the series is "strong, bold and unapologetic", says Blue Spill design director Allison Brownmoore. "The executives were very specific about the tone, but once this had been established, they were very interested in giving space to create a dynamic, striking sequence that firmly establishes the series."
The title sequence, which moves through key moments in the series, was designed in After FX and finished in Flame, with the different members of the Blue Spill team working remotely. The work was led by design director Allison Brownmoore and Flame artist Anthony Brownmoore, along with a team of eight artists.
They worked on the HBO Max series over a seven-month period and, alongside the title sequence, delivered 48 visual effects sequences across the four episodes.
CHINA: NATURE'S ANCIENT KINGDOM
PRODUCTION Oxford Scientific Films/EOS Films
POST Halo
WATCH IT CITVC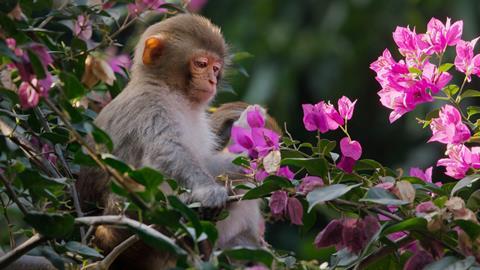 Halo completed full post-production on this three-part UHD HDR natural history series for CCTV and BBC Studios. The series explores the Chinese government's national park pilot project to protect the country's rarest species and delicate ecosystems. Halo's work began at the start of the first lockdown.
Commercial director Will Garbutt says: "We had a combination of edits at Halo HQ, remote edits and local, standalone set-ups in the UK and assembly edits in China.
"The task was to transcode 4K, 6K and 8K data and supply it to each editor and edit producer as quickly as possible to keep up with the schedule. We used a combination of our automated transcode service and remote manual processing to generate the proxy files for the edits and a Media Shuttle and transport drives to move it to the edit locations."
The finishing post was done after lockdown, so the director was able to attend the grades, onlines and mixes, albeit under social-distancing protocols.
TRUTH SEEKERS
PRODUCTION Stolen Picture
POST-PRODUCTION Molinare
WATCH IT Amazon Prime
Molinare sound designer Tony Gibson began work on this Nick Frost and Simon Pegg comedy horror early, visiting director Jim Field Smith during the shoot, where he also discussed wild tracks with location sound recordist Stuart Piggot.
The brief for the audio was that everything should have an analogue feel, so Molinare underwent a long recording session with some old machinery in the basement of its London HQ. "These were perfect for the buzzes, clicks, hums and beeps that we incorporated into the sound design," says Gibson.
The final mixing took place at the height of lockdown in a Covid-safe 'sound bubble' at Molinare. When it came to the grade, footage from the Sony Venice, shot with a vintage lens, already had a distinct and unique look that, once paired with HDR, "allowed us to explore new and interesting styles in the grade", says assistant colourist Karl Barnes-Dallas.
The work was completed by Field Smith and Barnes-Dallas, working safely in the Baselight grading suite together to finish both the HDR and SDR passes.