Demand is rocketing as production gets back on track, but new facilities and site expansions are coming down the line
Producers have complained for years about the challenge of locating studio space in the UK, amid record levels of film and TV production, which hit £3.62bn last year, according to the British Film Institute.
The situation is not going to improve in the short to medium term. With production bouncing back in the autumn after being brought to a pandemic-enforced halt in the spring, there is much industry concern over the 'traffic jam' ahead as delayed and newly commissioned shows vie to get made in the new year.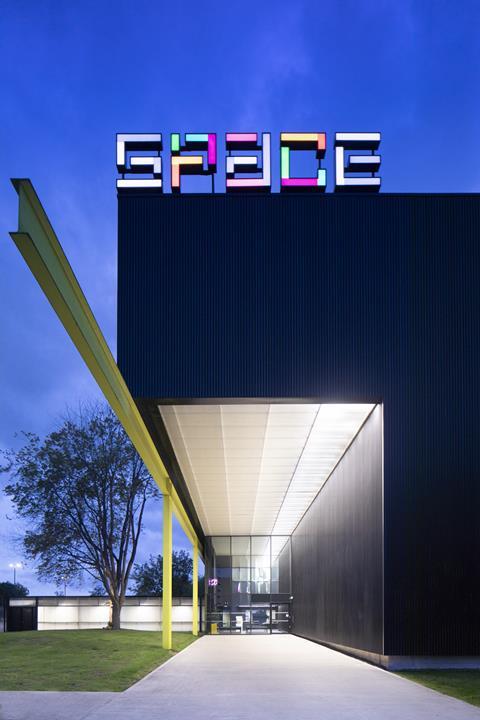 Demand for both shiny-floor TV studios and drama stages is high. Salford-based Dock 10, for example, hosted the delayed finals of this year's The Voice UK in November and went straight on to the first rounds of the 2021 series in December.
Dock 10 head of studios Andy Waters says the facility is also operating at a time of heightened demand from broadcasters and streamers for "feelgood studio formats" across entertainment and comedy. His facility, which is home to Who Wants To Be A Millionaire? and Naked Attraction, recently hosted seven different entertainment show pilots for Channel 4, part of the broadcaster's renewed focus on the genre.
In a Covid-19 world, clients are particularly interested in shooting in "properly run television facilities with strong protocols", says Waters. "They respect that they can come to an environment where they can work in a safe way."
Walters says Dock 10 is expecting an "untypically busy" first three months of 2021 after a spate of bookings. Following the Covid slowdown in the spring, it was business as usual from June as productions returned, and he insists the studio is getting back on track to hit its original targets for the financial year.
Manchester's drama-oriented Space Studios, meanwhile, is currently home to the sixth series of BBC1's Peaky Blinders, the second series of Sky 1's political drama Cobra, and new ITV thriller Viewpoint.
Demand for stage space is "robust", says managing director Colin Johnson. The publication of the British Film Commission's safe-shooting guidelines in the summer was a "massive help" in encouraging dramas back into production at facilities like Space Studios, says commercial director Rob Page.
He adds that the studios were aided during lockdown by having a "diversified range of income", including from long-term tenants who hire premises at the facility.
Growing demand
Rising spend on drama production, from broadcasters and streamers alike, has boosted demand for facilities like Space Studios, which recently announced plans to add another two 20,000 sq ft stages.
Space Studios is one of many that are expanding in the UK and several new facilities have also been announced (see box, below). "It feels to me like the level of demand could still support another couple of studios coming online alongside our expansion," says Johnson.
"Show me another sector of the economy that's growing by 8% a year"
Rob Page, Space Studios
Indeed, real estate consultancy firm Lambert Smith Hampton estimated last year that an additional 1.8 million sq ft of studio space will be required in the UK by 2025.
Before Covid-19, Page says, demand was increasing by roughly 10% a year. "Covid has probably knocked a few percentage points off that," he adds. "Show me another sector of the economy that's growing by 8% a year."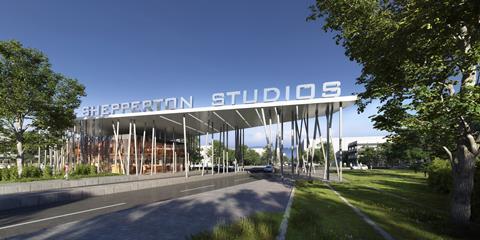 Producers' demand for studio space is not going to be satisfied in the immediate future – most of the new studio developments are a few years away at least. Space Studios hopes its additional studios will be available from early 2022, while the new Sky Studios Elstree, which has 12 sound stages under construction, is targeting the same year.
The Eastbrook Studios complex in Dagenham, with 12 sound stages, is expected to be completed a year later.In the meantime, smaller spaces can help fill the gap. Park Royal Broadcast Studios in west London now has two studios for hire, aimed at producers looking for augmented reality facilities, video walls, presenting sets and edit suits. Nearby is The Tank Factory complex – four new studios aimed at TV, commercials, music videos and photographic shoots.
"The biggest challenge is not additional stage space, but people. We need to attract more people to service productions"
Andrew Smith, Pinewood Studios
The squeeze on studio space has, of course, been heightened by Disney and Netflix striking long-term deals with Pinewood and sister studio Shepperton Studios to secure film and drama stages that ensure an uninterrupted flow of content. Pinewood's TV studios remain for hire, home to unscripted shows such as Taskmaster, Would I Lie To You? and Not Going Out.
The combination of film and high-end television, crews and bespoke infrastructure continues to make the UK an attractive place for US studios and streamers to make their content, says Pinewood director of corporate affairs Andrew Smith. "The biggest challenge is not additional stage space, but people," he adds. "We need to attract more people into the industry to service productions."
That said, the appetite for investment in studios only seems to be growing. Until recently, most new studio builds and expansions were led by local authority investment as the studio business model is an inherently risky one.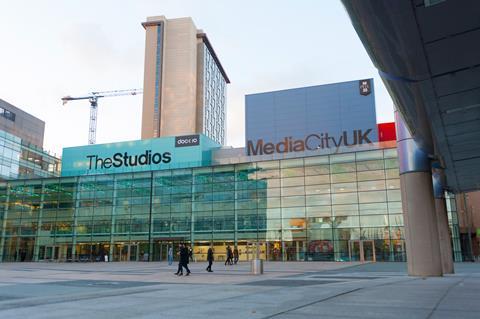 Most tenants only stay for short periods, making it impossible to guarantee a stable and regular return on investment. Long voids can be catastrophic for the business. Local authorities have been prepared to invest, as they are wise to the long-term, positive ripple effects studio facilities bring to their communities – such as skilled and well-paid jobs and the growth of support service companies.
However, private sector money is also increasingly attracted to the sector. For example, Barking and Dagenham Council has put money into the new Eastbrook Studios, but Hollywood property developer Hackman Capital Partners is investing the lion's share – more than £300m.
Post-Covid, some believe studios will be an attractive proposition for private sector investment – certainly in comparison with most commercial and office property, given the trend for homeworking. Indeed, the industry could be reaching a tipping point: as the demand for content grows stronger and stronger, the risks feel smaller and smaller to investors.
Investment opportunities
New York-based Bateleur Capital is backing studio developer Quartermaster, which is planning two new television studios: one in Stratford, London, which will be open for business from summer 2021, and another at Birmingham City University, open from winter 2022. Also in development are dedicated film studio developments within the M25 totalling more than 1.3 million sq ft of space.
"Our experience is long-term institutional debt and equity investors in various territories are keen to invest in this particular space," says Quartermaster founder and chief executive Katya Baker.
However, she notes, the investment required to build new studios of scale is significant – Quartermaster projects range from £50m to £350m. Four key stakeholders contribute to success: government in the form of planning and tax incentives, real estate owners, investors and the entertainment industry itself. Aligning all four is a challenge.
"Most importantly, there needs to be a collective recognition that studios are expensive special-purpose facilities," says Baker.
Longer-term commitments from the entertainment industry – whether broadcasters, streamers or production houses – to take space in studios would encourage investment, Baker says. "It needs to be approached as a joint venture and investors require equal commitment from end-users before they can deploy funds. It is not a case of 'build it and they will come' – that will never get past a credit committee."
Baker points out that Disney and Netflix's 10-year deals at Pinewood and Shepperton will mean a substantially lower cost of studio rental. "It was a win for both them and their landlord," she adds. "All UK production houses need to take a similar strategic longer-term view when it comes to their studio requirements, to control costs."
She appreciates that many UK production houses do not have the scale to commit to the longer term and suggests a group approach with the commitment spread over several independent producing parties. "Now that would be innovative and make them more competitive against the global players," she adds.
IN DEVELOPMENT: WHAT'S IN THE PIPELINE FOR THE UK STUDIOS SECTOR
A raft of studio builds and expansions are currently in the works, all looking to tap into demand for production space. "If every studio that has been proposed is built, I'm not sure there's enough land surface in the UK," jokes one studio boss.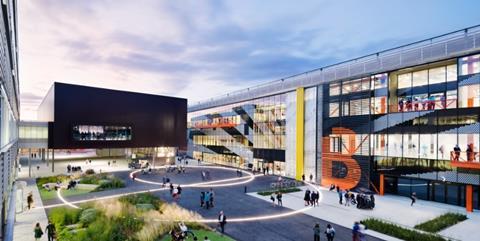 Among the most high-profile projects is Eastbrook Studios in Dagenham, east London. In November, Hackman CapitalPart ners, one of Hollywood's biggest property developers, agreed a £300m deal to build 12 sound stages with a 2023 target completion date.
Sky and NBC Universal have begun construction on SkyStudios Elstree in north London with 12 sound stages. The TV and film studio is set to open in 2022.
Studio operator Quartermaster is developing two TV studios – one in the Stratford, London (pictured), and one at Birmingham City University – and a further 1.3 million sq ft film of studios within the M25.
In Liverpool, plans are ongoing to redevelop the derelict Littlewoods Pools building into a home for film and TV production. In August, the proposed studios secured a £17m funding commitment from the Liverpool City Region Combined Authority's Strategic Investment Fund.
US operator Blackhall Studios is to plough £150m into building a studio complex near Reading, which will target large-scale film productions.
Meanwhile, Ashford International Film Studios in Kent was granted consent by the local council in April. The large-scale, £250m development on a 15-acre site is being carried out by The Creative District Improvement Company and Quinn Estates, while up in Birmingham, Peaky Blinders creator Steven Knight is working on Mercian Studios, a film and TV studio complex.
Other studios are expanding. Manchester's Space Studios is adding two stages and so is Elstree Studios. In Northern Ireland, Belfast Harbour has planning permission to build a further six studios as part of a £45m investment.
Pinewood has planning consent for 26 additional sound stages at both Pinewood and Shepperton, taking its total purpose-built UK sound stages to 64. It says the stages will start being delivered from the first quarter of 2021.