From delivering a dating show with a difference to grading live music performances and colour matching 20 years of footage from Afghanistan, Jake Bickerton looks at some of UK post houses' best recent work
SEXY BEASTS
PRODUCTION Lion TV
POST-PRODUCTION Fifty Fifty
WATCH IT Netflix
Six-part series Sexy Beasts is a dating show with a difference: those taking part wear elaborate prosthetics to obscure their identities. It was post-produced at Fifty Fifty, with deliverables including a HDR Dolby Vision master.
Fifty Fifty head of picture Julian Nelson ran the online and project workflow. He says: "Knowing this would be mastered in HDR, I was keen to never let the technology get in the way of the creativity. As well as a lot of practicals on set, extra light leaks, flares and film transitions were used.
"These effects were created in-house, translated into assets and colour managed in both SDR and HDR. A lot of work was composited directly in Baselight using a variety of dynamic shapes, blend modes and complex layer builds, so the key stakeholders always had eyes on the final Dolby Vision image."
Senior colourist Joe Stabb adds: "We started the grade process with camera tests by determining the right approach for HDR. We wanted to really show off the masks through the wide dynamics and colour gamut of Dolby Vision and the use of texture tools in Baselight."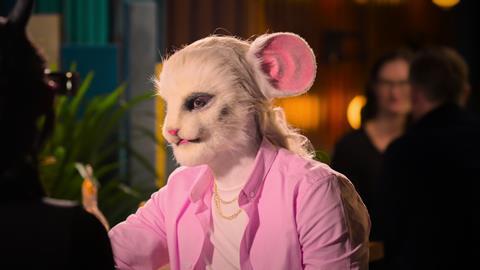 The series was shot on the Sony Venice and Stabb experimented with the in-camera effects and flares in the grade.
Head of audio Gavin Allingham says the sound mix had its challenges due to the masks obstructing the dialogue. In one case, the dater's mouth was set back inside the mask, which was made of fluffy fur, so "lip-syncing proved a tad tricky".
"As much of the dating was filmed under restrictions, we tried to create busy environments to make things sound a bit livelier," he says. "We also added subtle and imaginative effects to make the mixes feel richer. In one scene, the couple are meditating, so we gradually removed the British birds from the soundtrack and introduced more exotic varieties, just to hint at a bit of Zen."
MY CHILDHOOD, MY COUNTRY – 20 YEARS IN AFGHANISTAN
PRODUCTION Seventh Art Productions
POST-PRODUCTION The Edit
WATCH IT Released in 2022
Brighton's The Edit completed final post-production on My Childhood, My Country – 20 Years In Afghanistan, the follow-up to the multi-award-winning films The Boy Who Plays On The Buddhas Of Bamiyan and The Boy Mir.
The feature-length documentary trilogy, by film-makers Phil Grabsky and Shoaib Sharifi, follows Mir from his childhood, growing up in a cave, to the present day in Kabul, struggling to earn a living for his family.
Spanning two decades, the film was shot on a variety of SD and HD formats, from the Sony PD150 and Z1 through to Canon's XF305 and 5D.
Dave Austin's team at The Edit worked on getting the best quality out of the SD footage. He says: "We used a variety of third-party AI upscaling and noise-reduction tools and found that there wasn't a single setting that worked for all shots, so it was a shot-by-shot evaluation process. We were keen not to overdo it and I think the journey through the various video qualities adds to the sense of two decades passing."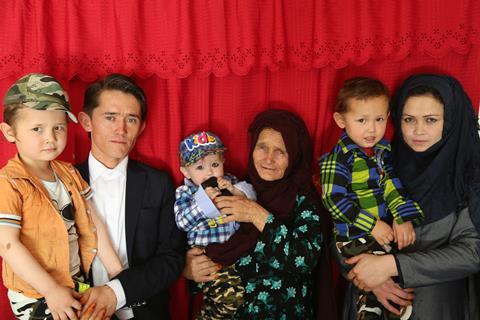 Head of audio Karl Mainzer felt it was important to match the tone of this film with the two previous films. He says: "We used the original dialogue and effects stems, embellishing spot effects with 5.1 surround atmospheres. Being captured over two decades, the audio recordings varied considerably and much of my job was to carefully smooth it all together into a cohesive soundscape.
"The score leaned heavily on the Rabab, an Afghan stringed instrument with a mystical, piercing tone. We asked the composer for extra stems so we could balance the Rabab against the dialogue and create a more nuanced mix."
Austin, who graded the film, says: "It's always a pleasure to grade films shot in far-off places because the colours are so different to what we are used to. The look inevitably and subtly changes as the film progresses, but I think it all adds to the passage of time."
My Childhood, My Country – 20 Years In Afghanistan is scheduled for a cinema release in January 2022 and will be broadcast on ITV in spring next year.
THE SPARKS BROTHERS
PRODUCTION MRC; Complete Fiction Pictures
POST-PRODUCTION Picture Shop
WATCH IT In cinemas from 30 July 2021
Edgar Wright's debut documentary takes audiences on a musical odyssey through five weird and wonderful decades with Sparks brothers and bandmates Ron and Russell Mael. Senior colourist Paul Ensby worked with Wright, editor Paul Trewartha, cinematographer Jake Polonsky and producer Laura Richardson.
The grading process consisted of blending in not only archive material but also animations, graphics and interview footage of various well-known fans.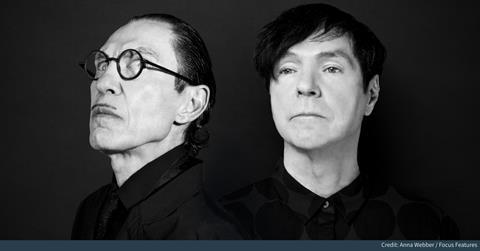 Ensby says: "We broke the archive down into black-and-white and colour home movies. Stills from their childhood were tinted into a sepia world for separation and we tried to blend in the rest of the archive to make it look as good as possible with the restrictions that were inherent to the material supplied.
"Album covers and band stills were made to look glossy and colourful, whereas the black-and-white interview footage was carefully controlled and shaped so it appeared to be seamless. A light grain was also added to the interviews."
NOEL GALLAGHER: OUT OF THE NOW
PRODUCTION CC-Lab
POST-PRODUCTION Halo
WATCH IT Sky Arts
Halo provided full post-production on this performance doc for Sky Arts, which was filmed at London's Duke of York's Theatre. Noel Gallagher performs 10 tracks that span his time in Oasis and Noel Gallagher's High Flying Birds, as well as talking about his career.
The film was shot on a fully remote nine-camera rig under strict Covid guidelines. The remit was to capture the performance, which was shot over three takes, and showcase the venue – which, other than the band itself, was empty.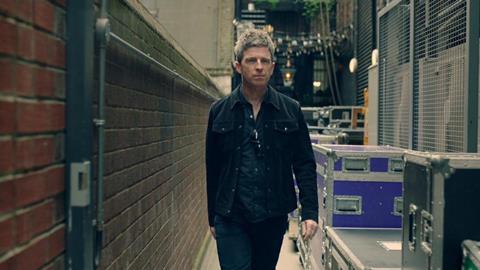 Halo used Nucoda's noise reduction plug-ins to sharpen the dark atmospheric shots and improve the contrast of the band against the lighting rig. Senior colourist Katherine Jamieson says: "It was a pleasure to work on some live music aft er so long, lit beautifully in Duke of York's Theatre.
Working with director Simon George, we tried to give each track its own identity and tone while complementing the beautiful lighting design on set."
Avid Symphony was used to package the film and ProTools for the 5.1 mix.
HORIZON SPECIAL: THE VACCINE
PRODUCTION Wingspan Productions
POST-PRODUCTION The Edit Store
WATCH IT BBC iPlayer
The Edit Store, part of the Clear Cut Group, finished this 90-minute doc, which was commissioned at the height of the pandemic to chart the story of the biggest scientific challenge of our age. It provides an in-depth insight into how five teams of scientists around the globe develop vaccines, in particular for Covid-19.
The Horizon Special was craft ed from interviews with leading scientists, into which online editor Dom McMahon intricately wove a wide range of archive material and exclusive footage to create a seamless sequence across the five narrative threads of the programme.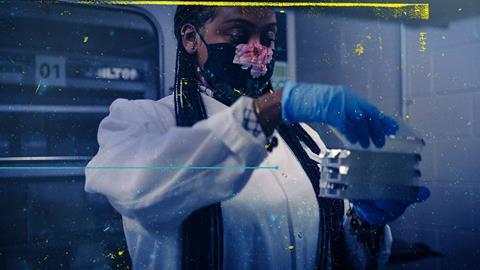 Colourist Mike Sanders worked in the grade to sharpen the material shot-by-shot, to ensure specially lit studio interviews blended with diverse archive sources and material filmed in research labs.
Given the observational nature of the footage, dubbing mixer Andrew Sears gave each strand a unique treatment in the audio mix to deliver a crisp, engaging fi nish that, in combination with enhanced archive audio, created a consistent soundscape.