Michael Burns rounds up what we know so far about Red Digital Cinema's much-anticipated
When is a smartphone not a smartphone? When it's a Hydrogen One.
Not satisfied with shaking the foundations of the cinema camera world with the Red One, Red founder Jim Jannard is now aiming at the phone market.
Or is he? By all accounts, the Red Hydrogen One Media Machine, to give it its full copyrighted title, is not just an Android phone, but the "foundation of a future multi-dimensional media system" – with a holographic display to boot.
With scalloped edges and a heavy metal look, it's a bit of a handful, and it's not cheap, costing around $1,200 (£930) for the standard aluminium body.
Also, despite being trailed since 2017, and officially announced in May, it's not out yet.
A post by Jannard on the phone's online community – the H4V forum – just before the expected August launch said the Hydrogen One had been "set back in certification", but that Red was working with US carriers for a revised release date.
A small number of users have managed to get their hands on preview models of the phone, and some specs have been released, but, crucially, no photos or footage of the holographic display in use have been allowed to be published.
However, most of those hands-on reports say the video experience is impressive. The 5.7-inch display, even during live video chats with other Hydrogen One users, offers a 'look around depth', a bit like 3D without the need for glasses or a headset.
Jannard himself has dismissed a previous pseudo-3D technology – lenticular – as "inferior tech in every way, [which] has been tried many times before and failed for good reason". Instead, the Hydrogen One is based on the proprietary Diffractive Lightfield Backlighting (DLB) technology developed by California-based Leia.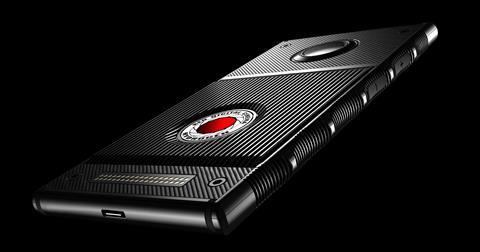 The inventor of the technology, David Fattal, said the Hydrogen One display is designed to project four distinct views in portrait mode, and four distinct views in landscape mode.
"So it's able to provide depth in both viewing orientations, without the need for eye-tracking," says Fattal. "It also provides some amount of 'look-around' – how much really depends on how you create the content."
The phone uses proprietary software to 'smooth' the lightfield image and improve the perceived resolution of the content.
The immersive display shows .h4v (holographic 4-View) images, which are created by shooting with four cameras or converting 3D to .h4v (which is apparently very easy), or converting 2D to 3D and then to .h4v.
The latest reports say the phone sports four sensors in the form of two dual-camera set-ups, front and back. This enables users to shoot 3D to 4-View without an accessory module. Reports have been mixed, with some early users impressed by the speed of capture and 4-View display, while others have been less complimentary.
Content is destined to be played/streamed on a special Hydrogen Network, with channels dedicated to movies, documentaries, games, shopping and apps in 4-View, as well as a content creator channel.
It all sounds like the start of a new media ecosystem, rather than what might be cruelly described as a vanity project for cinematography geeks. "We are also developing a line of prosumer and professional 3D to 4-View cameras to support the system," says Jannard.
The Hydrogen One will also integrate into the professional Red camera line, working with Scarlet, Epic and Weapon as a user interface and monitor.
Pre-orders have sold out and Red aficionados are desperately waiting to get to grips with Hydrogen One. Whether the rest of the film and broadcast industry and the wider world will get onboard 4-View and follow Jannard's vision, we'll have to wait and see.
Here's what we know, or think we know, about the Red Hydrogen One:
CAMERAS
The Hydrogen One sports four sensors in the form of two dual-camera set-ups, front (selfie) and back. The selfie side only shoots 3D to 4-View in portrait mode.
The back side only shoots 3D to 4-View in landscape mode. Camera modifications for higher-quality motion, holographics and still image capture are expected to be announced.
DISPLAY
The holographic 16:9 display is based on a 5.7-inch LCD with a Quad HD (2560 x 1440) resolution. The screen allows users to view holographic Red Hydrogen 4-View content. "Think being 'immersed in'… not just 'looking at'," says Jannard.
Stereo 3D content and immersive formats (2D/3D VR, AR and MR) are supported. Traditional 2D content can be viewed normally at full-screen resolution. Other formats will display with less brightness.
MODULAR
There's a pogo pin connector for the modular system where components will be attached.
None will be available at launch, but in future, Red will offer 2D image capture, A3D (spatial audio) and lens mounts for professional formats, including PL, Panavision, Canon EF, Nikon, Leica and Sony.
BUILD
The Red Hydrogen comes with either an aluminium (standard) or titanium metal body and is slightly bigger than an iPhone 8 Plus.
There are top and bottom kevlar panels for durability and signal passthrough. The scalloped grip is reminiscent of the Red Cinema Camera industrial design. Hardware controls include a fingerprint reader and separate volume buttons. It also sports a USB Type-C port connection
TWIN SPEAKERS
A proprietary H30 algorithm converts stereo sound into immersive 'multi-dimensional' audio. "Think 5.1 on your headphones," says Red. "The perfect match for holographic H4V or just listening to your favourite tunes." The phone also sports a headphone jack.
PROCESSOR AND POWER
The Hydrogen One reportedly runs on Qualcomm Snapdragon 835 – surprisingly for an advanced processing-heavy phone, this mobile CPU is a bit 'last year'– and 6MB RAM, but is powered by an industry-leading 4510mAh battery. It supports dual-SIM operation.
OS AND APPS
The Hydrogen One will ship with the Android 8.1 Oreo operating system, while additional capabilities, such as 'multi-view realtime face chat' will come later. According to Jannard, apps that support 4-View will be announced soon.
Broadcast TECH - September 2018
1

2

3

4

Currently reading

Hydrogen One: A smartphone, but not as we know it