Michael Burns looks at how four cutting-edge productions were captured, post-produced, mastered or distributed in 8K
MEGAN
Gradient Effects/Secret Lab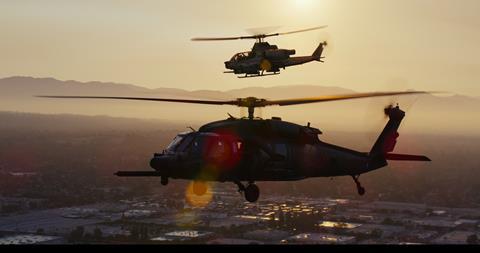 Megan is a short film made by LA-based Gradient Effects to test the studio's new 8K infrastructure. It takes viewers deep into the heart of an alien 'hot zone', where monsters lie in wait in a spore-heavy world, reminiscent of the one Gradient created for Netflix's Stranger Things.
The five-minute film includes more than 100 VFX shots created by Gradient and sister company Secret Lab.
"Gradient and Secret Lab were designed to be able to tackle two different challenges: demanding TV schedules and ambitious VFX," says Gradient owner and VFX supervisor Olcun Tan.
"With Megan, we learned how to apply the [same approach] to 8K, which will help us serve our clients even better when it becomes the new standard."
Having designed CG helicopters for TNT's The Last Ship, Gradient repurposed these assets for a scene involving Black Hawk helicopters, giving them 8K textures and adding tiny details.
The studio worked with aerial film company Helinet, which provided real-life references and a hangar that acted as both a set for the interior cockpit shots and the hot zone.
Once finalised, the team blended these assets to 8K aerial plates created with Red cameras and stock footage.
Learning to grapple with 8K meant building up Gradient's on-site infrastructure, including the addition of a high-speed network, clustered storage and a core engine that engineers could upgrade and tweak.
"8K requires about 16 times more bandwidth, computation power and storage than the traditional 2K workflow used on most productions today, which means studios that want to stay on top of it really need to prep their pipelines," says Tan.
"Without the right system in place, 8K can grind everything to a halt. Megan taught us that you need to be ready."
CAN YOU EVER FORGIVE ME?
Fox Searchlight Pictures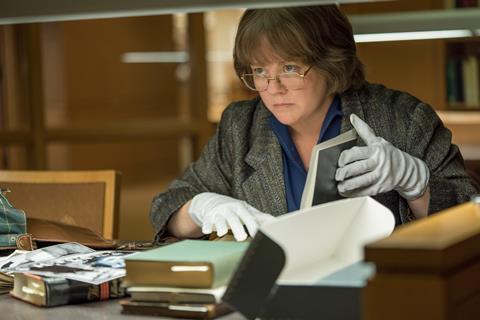 Can You Ever Forgive Me? is an upcoming drama starring Melissa McCarthy and shot by cinematographer Brandon Trost on the 8K Panavision Millennium DXL.
Michael Cioni, Panavision and Light Iron senior vice-president of innovation, says: "The Millennium DXL is equipped with a Red large-format 8K sensor with a 46mm diagonal. Compared with the 31mm diagonal of Super 35 sensors, large-format increases the camera's field of view by more than 60%."
Cioni adds that the larger the sensor size, the larger the field of view becomes. "This gives cinematographers the ability to get closer to subjects using wider lenses with less distortion," he says.
"It can give the impression of more intimate shots and shallower depth of field, while retaining a sense of the surrounding space."
Can You Ever Forgive Me? is a period piece set in New York, so Trost wasn't looking for the clean, glassy image that is synonymous with 8K image capture.
"Brandon experimented with rating the camera at higher ISO values in order to introduce texture," says Cioni.
"8K is a super-sampled image and when converted to 4K for DI, it gives a unique look in terms of texture and movement.
"When you couple the speed of the Panavision Primo Artiste lens, the size of the DXL sensor and the higher ISO value, Brandon was able to produce a very organic look that would fool most people into assuming this New York period piece was shot on a vintage analogue film format."
THE INNOCENTS
Jellyfish Pictures for Netflix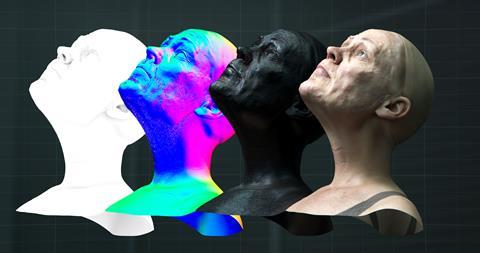 Jellyfish Pictures has recently finished work on The Innocents for Netflix, a drama shot on Red's Helium 8K camera.
Appointed principle vendor, Jellyfish delivered around 150 shots, mainly focusing on heavy CG character work, mixed with comping in projector backgrounds, split screens and water simulation.
The London-based facility says using 8K allowed for the most flexibility in post, ensuring image fidelity. "The creative benefits this provided to Jellyfish were varied," says Jeremy Booth, compositing technical director at Jellyfish.
"While the bulk of Jellyfish's work was CG, there was also a good amount of 2D comp work to be done. "Receiving the plates in 8K meant there was a lot more detail and crisper images for keying green-screen plates. It also helped with any filtering issues when transforming the image."
However, there were also problems to solve when handling the 8K footage. "The issues were the same as what we are seeing industry-wide," says Booth. "The sheer size of the files meant that the data was a lot slower to work with."
PYEONGCHANG 2018 WINTER OLYMPIC GAMES
Olympic Broadcast Services/NHK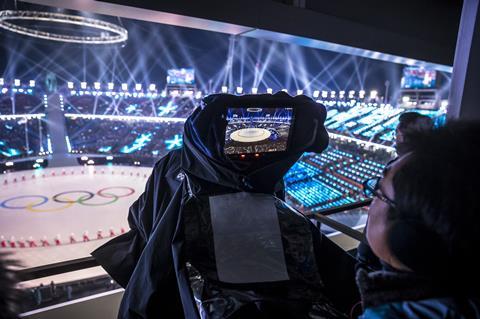 At the Winter Olympics in PyeongChang, South Korea, big advances were made in the 8K production project from Olympic Broadcast Services (OBS) and NHK, which started at the London 2012 Summer Olympics.
Broadcast resources and production staff were made available by NHK, while OBS provided infrastructure at the venues and technical support to transmit the international signal from the venues to the International Broadcast Centre (IBC).
Supervising the engineering aspects of the 8K project for OBS was technical manager Takashi Miyamoto. He says one of the biggest challenges was to introduce 8K HDR technology with wide colour gamut (WCG).
"Up to 10 cameras were deployed in PyeongChang and, for the first time, everything was produced in HDR with WCG. 8K coverage included the opening ceremony, figure skating, short-track speed skating, ski jumping and snowboard big air."
The NHK and OBS teams used Hybrid Log Gamma, the HDR format developed by NHK and the BBC.
Miyamoto reveals the production kit for the figure skating and short track included Ikegami SHK-810 8K cameras, two Sony HDC-4800 cameras in 4K for high-speed recording (which was then upconverted to 8K) and an 8K 120 fps camera, operating twice as fast as a normal camera.
"This camera was developed by NHK Science & Technology Research Laboratories for slow-motion replay," Miyamoto explains.
For ski jumping, the team used Sony UHC-8300 8K cameras and a Sony server for replay. In addition, Sony HDC-4800 cameras were used for slowmotion playback (again upconverted to 8K).
"From a technical point of view, the co-production between HDR and SDR was challenging," says Miyamoto. "This scheme aimed to not only create 8K HDR content, but also to make it compatible with SDR so that it could be down-converted to 4K SDR for distribution to 4K rights holders."
OBS-NHK set up an 85-inch screen at the IBC Super Hi-Vision theatre for the PyeongChang 8K project.
The intention was to make visitors feel as if they were watching the competition on site. The team recorded wider shots compared with normal HD coverage.
Consequently, each shot lasted longer than it normally would. In addition, OBS and NHK aimed to portray the athletes in maximum size on the screen for a more immersive effect.
Broadcast TECH - September 2018
1

2

Currently reading

Showcase: Megan; Can You Ever Forgive Mel; The Innocents; Pyeongchang 2019

3

4