British company Rotolight takes legal action against Dutch rival Vibesta in row over design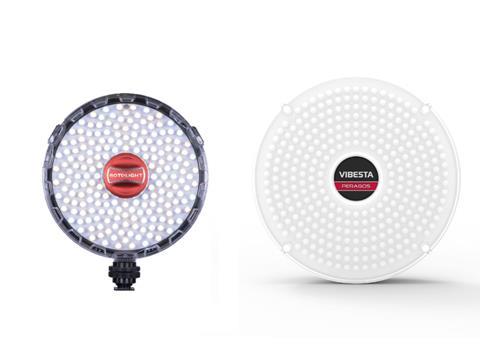 Lighting firms Rotolight and Vibesta are heading for court later this month in a row over the design of two competing LED portable lights.
British LED lighting manufacturer Rotolight is taking legal action against Dutch firm Vibesta.
Pinewood Studios-based Rotolight has served a writ of summons and is seeking an interim injunction for design infringement and "slavish imitation" of its product.
However, Vibesta plans to contest the allegations, saying Rotolight has "no solid grounds" to accuse Vibesta of infringements, adding that its claims "could damage its reputation and harm its sales network in order to prevent competition".
Product similarities
The dispute centres on Vibesta's Peragos Disk product line, which Rotolight believes copies the design of its Neo product range. Rotolight launched the Neo 2 in 2017.
Both are circular, light-weight and portable lights that can be used for video and stills shooting. Both can provide continuous light or be used as a flash.
Rotolight said it was made aware of the Peragos Disk product line in May this year "by a number of retailers who expressed concern over its similarity to Rotolight's Neo product range".
Rotolight also accused Vibesta of using digitally altered versions of Neo images in its own marketing campaign, which it said have since been discontinued after Rotolight's UK lawyers sent a letter to the company.
Rotolight chief executive Rod Aaron Gammons said: "Copying the design of our most successful product to produce a slavish imitation is unacceptable and must be stopped. We have made significant investments in research and development to deliver value for our users and so protecting our extensive portfolio of intellectual property (unless properly licensed) remains a high priority. We are confident that we will prevail in the upcoming legal proceedings."
The case will be heard in the District Court in The Hague, Netherlands, on 18 October.
Vibesta plans to challenge the suit. In a statement to Broadcast, Vibesta said it looks forward to the court proceedings "to protect our rights" and is confident about a positive outcome.
It added: "Utilising our in-house R&D capacity and strong industry design team, Vibesta's business goal is to create industry-leading tools for photographic and film-making industries. We highly respect others' intellectual property rights and equally protect our own intellectual property.
"Vibesta protects all of its products by registered design rights and also has design patents for the Peragos Disk in various regions, one of them being a RCD [Registered Community Design] in the EU.
"The Vibesta Peragos Disk is a competitive product that serves the market's demand very well by offering compact lights with sufficient brightness and advanced features like full-colour tunability."
Earlier this year, Rotolight secured £5m of equity investment from Octopus Investments.