Behind-the-scenes on how the educational provider supported home-schooling during the height of Covid-19 restrictions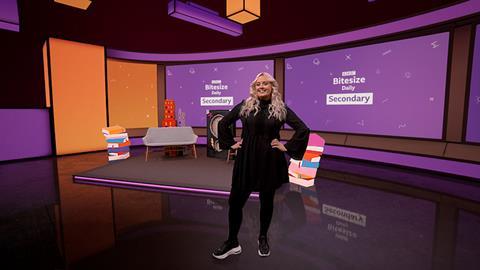 BBC Bitesize revealed to Broadcast Tech how it managed to increase its output and deliver high quality content to children across the UK during the height of the Covid-19 lockdowns.
On 20 April, at the peak of pandemic restrictions this year, the educational content provider launched Bitesize Daily to deliver online lessons and dedicated TV programmes to home-schooling kids. Celebrities such as Professor Brian Cox and Sir David Attenborough helped to present the material, as well as the likes of Stephen Fry and Jesse Lingard.
As part of this push to help home-schoolers, BBC Education executive producer Joe McCulloch was tasked with producing two hours of live programming every weekday - at just three and a half weeks' notice - from Dock10 studios in Media City.
"It was just crazy really," says McCulloch. "Everyone knew how much work it would entail but we were all up for the challenge. We knew it was an unprecedented time, and just wanted to make it work."
There were some advantages to working during the pandemic, mostly the extra resources freed up by programmes not running at the time.
Bitesize Daily was able to take over the Match of the Day virtual studio at Dock10, repurposing it for its broadcasts. The virtual studio allowed producers to see gallery output remotely and fewer team members than a regular production.
One tip McCulloch picked up from working with the green screen was the need for on-screen talent to bring a change of clothes: "You need to leave enough time to check what they are wearing – it's not just green coloured clothes that don't work, but shiny clothes and some white clothes too."
In addition, McCulloch was able to borrow teams from within the BBC and his own department - initially recruiting a 32-member team that eventually grew to 55.
Other challenges that the production faced included delivering scripts on time with such short notice, as well as post-production. The large quantity of output needed - two hour-long programmes and six 20-minute versions of those same programmes - meant that re-versioning was time consuming and labour intensive.
Meanwhile, a remote post-production workflow that spanned editing, graphics, audio dubbing, QC and delivery, provided by Dock10, helped the team with social distancing, but McCulloch admitted: "Because we were working remotely, it did take a bit more time."
However, he added that overall: "Everyone was really on board with social distancing and the new way of working."
After this period of production, the BBC revealed that Bitesize Daily had received 5.5 million requests via iPlayer. McCulloch said of the response: "Even though it was full on, we knew it was being watched and being used by so many kids at home that made it all worth it."