The opening of Rebellion Studios in Didcot will be followed by an even larger development near Bicester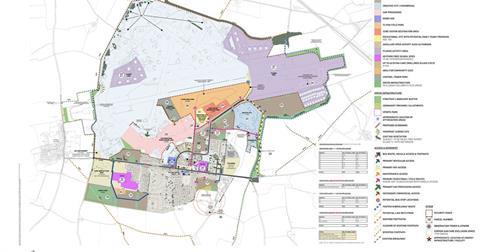 Two new studios are set to open in Oxfordshire, helping to meet industry demand for production stages in the UK.
Game, comic book, film and TV producer Rebellion has acquired the Daily Mail's £78m former Didcot printworks, which it is turning into a film studio complex.
Rebellion plans to film its Judge Dredd sci-fi drama Mega City One and feature film reboot Rogue Trooper, set to be directed by Duncan Jones (Moon; Source Code), at the studios next year.
Meanwhile, a former Cold War airbase at Heyford Park, near Bicester, is due to be developed into a film and TV campus. The site will feature a mix of studios, workshops and ancillary offices across 459,000 sq ft of space. The base already has a history of hosting films, including World War Z, Fast And Furious 6 and Wonder Woman.
Developer Dorchester Living has applied for a 'Creative City' at Heyford Park, covering 39 acres (map of proposed site pictured above). The development is currently at the planning stage, and is likely to go before the local Cherwell District Council early next year – with work likely to start in 2020, if permission is granted.
Rebellion's new studio complex is already open for business to outside productions that want to shoot there, says chief executive Jason Kingsley. "There's a little bit of tidying to do. But we have office space, power, heat and light. Quite frankly, if someone said to me, 'Can I come in and start filming tomorrow?', I could say 'yes'."
Big-scale plans
Six soundstages will be available at the 220,000 sq ft site, which is set in 12 acres of land. Rebellion is investing several million pounds in the building, which was soundproofed by the previous owners to keep down the noise of the printing presses.
It is Rebellion's second film studio. The Oxford-based company owns acclaimed motion-capture firm Audiomotion Studios, which has contributed to films such as World War Z, Iron Man 2, Maleficent and Harry Potter And The Deathly Hallows, and has Europe's largest performance capture stage.
Rebellion is privately owned and was founded by Jason Kingsley and his brother Chris. They were producers on 2012 feature Dredd and launched Rebellion Productions in 2017 to develop and produce film and TV shows based on its comics and IP.
Jason Kingsley said the company is "steeped in the idea of doing things ourselves. We want to emulate what we do in computer games, where we are vertically integrated fully, so we self-fund our titles – the development, production and marketing of them – and then take them through to distribution with partners like Microsoft and Sony."
Kingsley added that the acquisition of the studio was spurred on by the fact that Rebellion was finding it tricky to book space in the UK to make its projects. He said the size of the studio plus its location near Rebellion's HQ and the fact that it is less than an hour from London and Heathrow made it a perfect choice.
Kingsley said the studio would act as collateral when Rebellion is putting together deals on its productions. "We can provide the facilities – they can be part of our investment."
He said the first Rebellion film to shoot there is likely to be an adaption of teen apocalypse drama School's Out, based on the book published by Rebellion, which is set to film in the spring. Mega City One and Rogue Trooper could possibly go into production next autumn, he added.
Looking ahead, Kingsley said he wants to create a visual effects department at the new studio, building on the skills the company already has in producing computer games and comics.
The development of the two Oxfordshire studio complexes comes after film and high-end TV production investment in the UK reached a record high in 2017, with nearly £3bn spent.
However, studio infrastructure is struggling to keep up with the increased demand. Projections by consultancy Lambert Smith Hampton show that, at the current rate of growth, the UK needs 1.9 million sq ft of additional studio space by 2032.