Oxford-based company says its visual data platform makes content more 'discoverable' and accessible for monetisation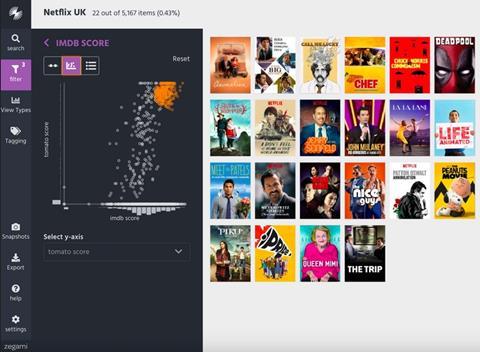 Zegami, an Oxford-based visual data exploration company, is launching into the broadcast industry.
Zegami combines digital media, data and artificial intelligence (AI) into a single cloud-based platform to extract information and identify patterns.
Its visual exploration technology started in the world of molecular medicine and is now used in sectors such as sports and retail.
Zegami says its visual data exploration platform makes content more discoverable and accessible for monetisation.
Using its own algorithm, Zegami also says it can boost real-time live production. During live football coverage, for example, a programme editor may need to display stats on a goal scorer; the Zegami system enables them to bring up the player's performance stats, historical facts, images, video and real time social media influence. It can also call up a collection of similar players.
"Zegami is a natural fit for the broadcast industry, not only does the platform save on guesswork and pre-planning, it enables producers, editors and many other roles within a broadcast operation, to make smarter decisions around their collective data, better engage audiences, as well as delivering and enriching 'the moment'," said Sam Conway, CEO of Zegami.