Nigel Finch's awkward Arena encounter with a strong-willed subject taught the documentary-maker a vital lesson in authorship and tone
Arena: Louise Bourgeois: No Trespassing
BBC2, 1994
As a moody adolescent, I didn't really watch much TV, though I was always interested in film and documentary.
I'd often make solitary trips to a local community centre with a leaking roof, to watch movies by directors like Les Blank, Tarkovsky and Kurosawa.
In 1994, I had just emerged from the crucible of four years of making fast-turnaround short films for The Late Show, BBC2's late night arts magazine show. It had been an invaluable apprenticeship.
I was 32 by then, but I think I must have been a late developer. I hadn't yet found my voice as a filmmaker and I didn't feel fully in control of my material. In truth, I was often terrified.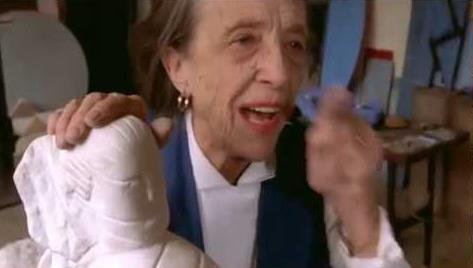 When I saw an Arena about the artist Louise Bourgeois, many things swam into focus.
The film begins with director Nigel Finch in conflict with his subject. Bourgeois, at 82 years old, is a difficult and at times hostile interviewee. She wants control over the film. She gets angry, smashes things including her own work and walks out of the room mid-conversation.
It's a hilariously funny film, although you can always feel Nigel's warmth and respect for Bourgeois.
"It was compelling to witness a filmmaker unafraid to mess around with form and who had the confidence to let the film go where it took him."
And it's a film as much about ideas as it is about a person. Bourgeois says important things about creativity, describing making work as a way of purging difficult feelings. A sign in her studio reads: "Art is a guarantee of sanity".
All of this was important to me, as was the fact that the film was about an outspoken and strong-willed old woman.
But most compelling to me as a director was to witness a filmmaker who was unafraid to mess around with form and who had the confidence to let the film go where it took him. Nigel didn't attempt to rein in Bourgeois' eccentricities or force her to play by the rules. This was a vital lesson in authorship and tone.
Nigel died in 1995 and sadly I never met him, although a decade later I was lucky enough to have Arena editor Anthony Wall as my executive producer. He oversaw my series Art & the 60s, Lefties and Jews.
And now, 25 years after seeing Nigel's film and with more than 50 of my own under my belt, I have just completed my first feature-length documentary, which I'm proud to say is also my first Arena. The circularity of this gives me great pleasure.
Vanessa Engle is a documentary director. Her Arena doc The $50 Million Art Swindle will air on BBC2 later this year.
A Window on the World
1

2

3

Currently reading

Vanessa Engle on Louise Bourgeois: No Trespassing

4

5

6

7