Small and beautifully formed series can stand alongside high end
In the current era of Game Of Thrones, Electric Dreams and Star Trek: Discovery, there's something refreshing and reassuring about the exceptional performance of domestic, overtly British, drama.
The second run of BBC1's Drama Republic series Doctor Foster may be pushing the bounds of credibility (perhaps that's a bit harsh – there are no dragons, after all), but it is also pushing international boundaries.
The first run has been sold to a whopping 226 territories and, ahead of Mipcom, BBC Worldwide has struck a major format deal with Russia 1 for an eight-part remake.
This is a staggering performance for a show with no obvious international stars and not much of an elevator pitch: a woman discovers her husband is having an affair and organises a socially awkward dinner party to confront him. It's hard to think of anything more British.
I'm being flippant, but the point remains – it is the show's quality and subsequent ratings performance that is behind its success, rather than epic visuals, Hollywood cast or eye-watering budget.
The same is true of ITV's Two Brothers series Liar, which is two weeks from concluding a barnstorming first run. It has also found significant international success, with All3Media International selling the series to TF1 France and Sundance TV in the US.
"Both BBC1's Doctor Foster and ITV's Liar feel like organic, word-of-mouth hits in the old-fashioned, linear mould – and are all the better for it"
Ahead of the Cannes market, the distributor is also reporting strong interest from broadcasters in Scandinavia, New Zealand and Australia.
Like Doctor Foster, it features a small cast and is a simple idea executed superbly. Both feel like organic, word-of-mouth hits in the old-fashioned, linear mould – and are all the better for it.
That's not to say British broadcasters shouldn't aspire to make big-budget, high-concept scripted programmes. It would be foolish to be complacent, and terrible if Netflix et al became the only place that producers feel they can take that type of show.
But creative ambition is not measured only by pound signs, and it is worth restating that the likes of Happy Valley and Line Of Duty can stand shoulder to shoulder with The Crown and lose nothing in the comparison.
Much has been written (and many foreheads scratched) about how to define distinctiveness, which is to be one of the key criteria by which Ofcom measures the performance of the BBC's output.
It should not necessarily mean that BBC shows need to be very different from those of rival broadcasters. Doctor Foster and Liar are cut from the same cloth – and that refl ects well on both ITV and the corporation. Perhaps quality, more than any other factor, is the key to defining distinctiveness.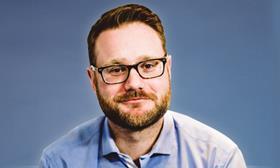 Chris Curtis is the editor of Broadcast