"The Little Drummer Girl marries the thrilling twists and turns you'd expect from a Le Carré thriller with a brooding love story"
Distributor Endeavor Content
Producers The Ink Factory; BBC; AMC; 127 Wall
Length 6 x 60 minutes
Broadcasters BBC1 (UK); AMC (US)
The Little Drummer Girl is the latest John le Carré adaptation to hit the small screen and its makers will hope it can match the success of 2016's The Night Manger.
Like its predecessor, The Little Drummer Girl has been adapted by the BBC, US cable channel AMC and The Ink Factory.
The six-part thriller is a story of espionage and international intrigue with big-name talent attached both in front of and behind the camera.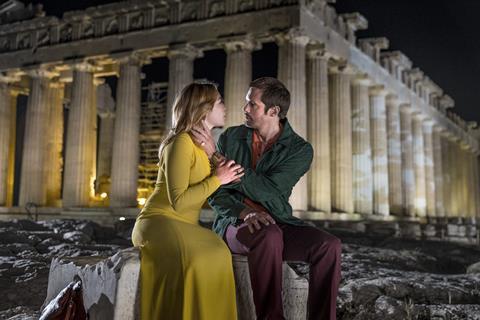 Alexander Skarsgård (Big Little Lies) plays Israeli intelligence officer Becker, while Florence Pugh (Lady MacBeth) is Charlie, an idealistic actress, whom Becker entangles in a complex plot devised by master spy Kurtz. The latter is played by Michael Shannon (The Shape Of Water).
Set in the 1970s but with characters and themes that resonate with the present day, the mini-series is a story of love and betrayal set against the background of rising tensions in the Middle East.
Director Park Chan-wook (Old Boy) takes the helm and makes his television debut with the series, which went into production at the start of the year.
"The Little Drummer Girl marries the thrilling twists and turns you'd expect from a Le Carré thriller with an intense, brooding love story," says Endeavor Content vice-president of scripted programming Laura Andrews.
While there are similarities between The Night Manager and The Little Drummer Girl, Andrews argues that these go beyond the obvious (that both are based on best-selling Le Carré thrillers and had large budgets that afforded international locations and Hollywood talent).
"For me, the key similarity between these two stories is that we are following a capable but relatable protagonist thrust suddenly and unwittingly into the dangerous world of international espionage," she says.
"Both Tom Hiddleston's Jonathan and Florence Pugh's Charlie are outsiders we really root for, as they face extraordinarily high stakes in intriguing, hidden worlds."
Like The Night Manager director Susanne Bier, Park Chanwook has overseen the full series, allowing him to put his mark on all six hours that appear on screen.
"Park brings his eye for sophisticated palettes, bold shots and incredible detail," says Andrews. "Although the series is set in the 1970s, he has made it feel relevant and contemporary."
British drama
1

2

3

4

5

Currently reading

Hot Picks: The Little Drummer Girl

6