"It is trendy right now to have flawed characters like Luther, even in a classic period piece"
Distributor Arrow Studios International
Producers The Imaginarium; Soho Moon Pictures
Length 3 x 60 minutes; 2 x 90 minutes
Broadcaster BBC2 (UK)
The BBC has put a modern twist on its latest period drama, Death And Nightingales – the first adaptation of Eugene McCabe's debut novel set against a backdrop of religious and political turbulence in 19th-century Ireland.
Set in the Fermanagh countryside in 1885, the series recounts a day in the life of Beth Winters who, on her 23rd birthday, decides to escape from her limited life under the rule of violent stepfather Billy.
She is born into a divided family – with a Catholic mother and a Protestant father – and the clash of the two religions during a strife-ridden period in Irish history underscores the story.
Ann Skelly plays the lead role alongside The Fall's Jamie Dornan as the roguish Liam Ward and The Post's Matthew Rhys as Billy. The show reunites Dornan with The Fall creator Allan Cubitt, who has adapted and directed the series.
The action condenses 24 hours into three. BBC2 will air a 3 x 60-minute version, but it has also been cut as a 2 x 90-minute version for central European public broadcasters with 90-minute slots to fill. The drama was filmed in Northern Ireland over the summer, with TX set for later this year.
While the setting is authentic for the period, the characters have been given a modern treatment, with emphasis placed on their flawed nature.
Red Arrow Studios International executive vice-president of global sales Bo Stehmeier explains: "It is trendy right now to have flawed characters like Luther, even in a classic period piece."
Stehmeier is hoping the contemporary treatment of the 19thcentury classic will broaden the customer base.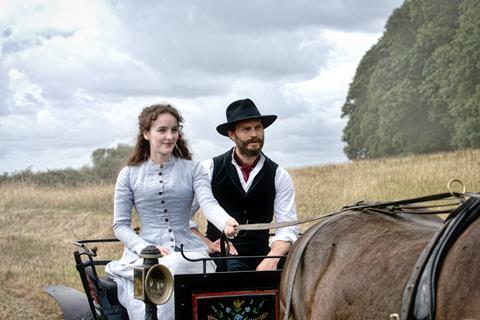 "We will be going to commercial broadcasters to see if this modern treatment is something they would explore for the first time," he says.
Seasoned free-to- air period drama buyers and pay-TV broadcasters drawn to the cast will be key targets.
Stehmeier believes the series will appeal to SVoD platforms such as Netflix and Amazon "that like properties with strong IP and a built-in audience", but favours selling the series on a territory-by-territory basis to extract maximum value.
"Sometimes a gentler, free-to- air approach will have a better entry to the market," he says. "It is also our responsibility as a distributor to keep feeding the ecosystem that pays 80% of our salaries: free to air."
British drama
1

2

3

Currently reading

Hot Picks: Death And Nightingales

4

5

6