Pop group Jungle's one-take promos featuring dancers performing brilliantly choreographed routines helped propel the band to stardom. The group's co-founder Josh Lloyd-Watson, director Charlie Di Placido and DoP Olly Wiggins tell Jake Bickerton how they were made
The power of a pop promo to catapult a band to a mass market was ably demonstrated four years ago when 'modern soul collective' Jungle appeared on the scene with a self-made video (for debut single Platoon) featuring the astonishing breakdancing and head-spinning talents of a six-year-old girl called B-Girl Terra.
The video was made for £300 and crudely shot using high-end cameras "borrowed" from a Churchill Insurance commercial by producer/director and friend of the band Charlie Di Placido.
Rather than do anything too clever, the band stayed behind the scenes, assisting with the directing and catering, while handing the spotlight to B-Girl Terra to do her thing. It worked a treat and quickly went viral, helping to make Jungle one of the hottest new acts of 2014.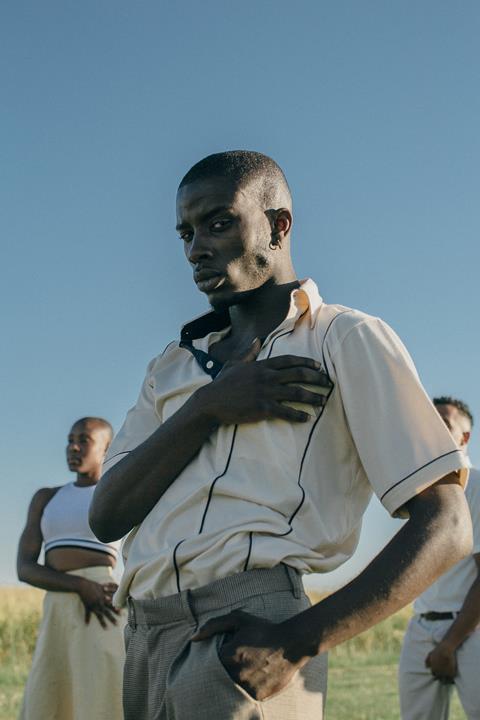 Jungle's co-founder Josh Lloyd-Watson says: "B-Girl Terra brought so much magic to the video that we started to understand how much characters can bring the whole thing to life. It's not the best video in the world but it's got something about it that's just so simple. From there we developed the Jungle style."
More character-driven, one-take dance-oriented pop promos followed, all reaching huge audiences. The promo for single The Heat featured a pair of roller-skating dancers in matching green Adidas tracksuits, while the video for Jungle's breakout single Busy Earnin', shot in a large, stark studio space, centred on a group of dancers performing a meticulously choreographed routine.
After a gold-selling, Mercury-nominated debut album and several world tours, Jungle returned last year, releasing two new singles – Happy Man and House In LA. The video for Happy Man was a departure from what went before, with less dancing and the band appearing in their own video for the first time.
Meanwhile, the promo for House In LA was a more familiar affair, with a dance routine the key focus of the gorgeous, moody pop promo, shot in and around a stunning hilltop property just outside Los Angeles.
As with all previous Jungle videos, the band once more took control of the production and the creative direction.
The House In LA video was shot entirely using a drone, as both a handheld device and in the air. Lloyd-Watson says: "We'd just played [the festival] Coachella and had booked a house in Topanga, which is just up from LA. We managed to get this drone [a DJI Inspire 2, with a Zenmuse X5 head] from a friend and started experimenting with it."
Di Placido adds: "Josh came up with the idea to take the blades off and hold it. It's got a self-balancing head, so if you turn on the engine, it's balancing itself. Where the landing bit is works as a perfect arm strap."
Lloyd-Watson, who was controlling the drone while also appearing in the video, says: "We shot all the scenes on the ground first and then we got it up in the air. We were terrified as we didn't have any permits. I'm desperate to get this one shot and the second the drone goes up, we're on a timer before someone shuts us down. But the view from the drone with the sunset was just incredible.
"As I was bringing the drone around the house, I'd be turning my body away as if I was looking out into the sunset, so you couldn't see the controls in my hand. There's another shot where I'm sitting on the sofa, again hiding the controls. We didn't have anyone else there to fly it."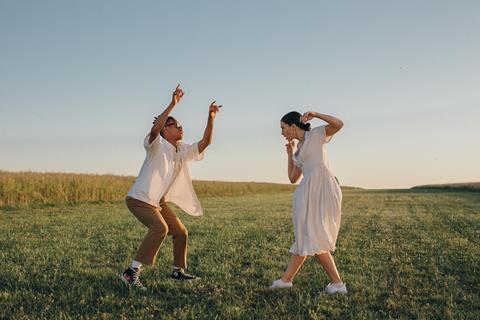 The video was graded by Di Placido and, despite the DIY approach, the film is visually striking and beautifully finished. The self-shooting, self-financing, self-producing methodology behind Jungle's videos is partly to ensure they keep creative control, and partly due to necessity.
"We're paying for the videos," says Lloyd-Watson. "The deal with [Jungle's record label] XL is that all our pop promos are recoupable, which means it's a cost that comes out of what we earn. So I'm both the client and the director, which is quite weird. That's what's led us down the path of having to get so involved and do it ourselves."
Jungle's most recent videos, for the singles Heavy, California and Cherry, released on the same day earlier this year, continued the self-produced, dance-focused, one-take theme.
They were both shot by cinematographer and co-owner of camera rental company S+O Olly Wiggins. "We were at a grass airfield in Wiltshire, in the middle of nowhere – there was no electrical power anywhere and it was far too big a space to set up any lighting, so once the natural light had gone, it was over.
We used an Arri Mini camera and Master Primes in the amazing Arri Trinity system, which really was a life-saver as it allows the operator just to run around and everything is stable," Wiggins says.
"We waited for the light to be right and then started filming. With performers, when you're after a one-take, you tend to have this magic window when it all works; the lighting, cameras, dancers and direction all gels at the same time. It's this alchemy that just suddenly happens and everyone looks at each other and just goes, 'I think we've got it.'"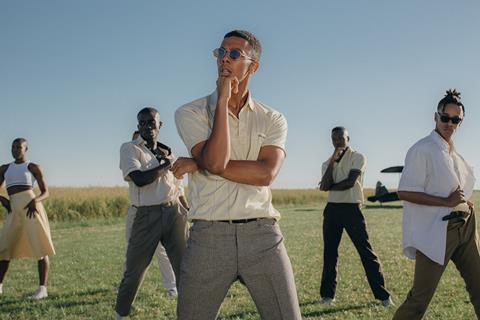 The next day, the team reassembled in Old Islington Town Hall, London, to shoot the video for Cherry.
"We got there and lit for a few hours," says Wiggins. "It had a very clean look to it that worked really well with the dance. The track was recorded backwards for the dance routine, so that when you play the song forwards, they're dancing backwards. That was all Charlie and Josh's idea and gives you some moves that would otherwise be impossible.
"A lot of people don't notice it, but there are subtle parts of the choreography and flicks of hair where you'll see something looking a bit weird and you don't quite know why.
"The backwards song was quite difficult to listen to, and someone came to me mid-way through and said, 'I'm really not sure about this track,'" laughs Wiggins.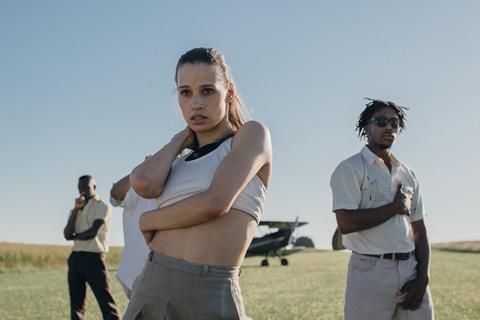 The success Lloyd-Watson and Di Placido have experienced creating Jungle's promos has led them to set up their own production company, JFC Worldwide, along with friend Oliver Hadlee Pearch, who has also worked on many of Jungle's videos.
As well as representing Lloyd-Watson, Di Placido and Hadlee Pearch, JFC Worldwide's roster of directors includes UK rappers-cum-film directors Kojey Radical and Nines, as well as fledgling director Mos Popular Human.
Di Placido explains the thinking behind setting up the company: "It was always the plan for me and Josh to have a platform for anything we wanted to do and anyone we wanted to support. Obviously, Jungle is a massive part of that and keeps us relevant. But from the start of JFC, we've worked solidly with young British acts and also given them the chance to direct some stuff.
"Nines is a rapper from North London and he wanted to make a short film to go with his album Crop Circles. We did that, and it was very successful. And, after doing a second episode of Crop Circles, we're now trying to pitch the series to TV companies and have just taken on a commercials producer."
Lloyd-Watson adds: "We ultimately want to grow to the place where we can do a drama or a feature film, knowing we can achieve it. How we fund it and distribute it is something that will come further down the line. For us, it's about the idea and making sure we've got something we want to make. It's all to do with the passion."
Broadcast TECH - November 2018
1

2

3

4

Currently reading

Making the right moves