Large-format cameras and lenses are now as likely to be used in high-end TV projects as feature films. Phil Rhodes hears from a DoP and a director who worked with the Alexa LF and Canon C700 FF on recent productions
The film industry has been fond of the idea that bigger is better since the middle of the 20th century, when formats such as VistaVision, Cinerama and variations on 70mm film were introduced.
In 2018, large-format cameras and lenses are the technology of choice – and they are increasingly being used on projects for the small screen too.
Models such as the Alexa LF, Canon C700 FF, Sony Venice, Panasonic DXL and Red Monstro have all recently come onto the market.
Over the following pages, Remi Adefarasin, who has just completed the first Alexa LF feature (Lyrebird), and Jonathan Jones of Ember Films, who has been working with the Canon C700 FF on commercials, branded work and natural history productions, discuss the pros and cons of going large.
WORKING WITH ALEXA LF
Lyrebird follows the exploits of Han van Meegeren, a Dutch art forger who made a fortune selling fake Vermeers to the Nazis. Adefarasin, who was DoP on the film, opted to use the Alexa LF.
The Alexa LF's sensor is nearly 1.5 times wider than that of a conventional camera, he says. Bigger chips can hold more pixels, for higher resolution, and those pixels can be larger, and so gather more light.
"Dan [Friedkin, the director] wanted it to be done as well as it could be," says Adefarasin. "It is a film about characters, personalities and art, and he wanted a sense of being in the artist's environment."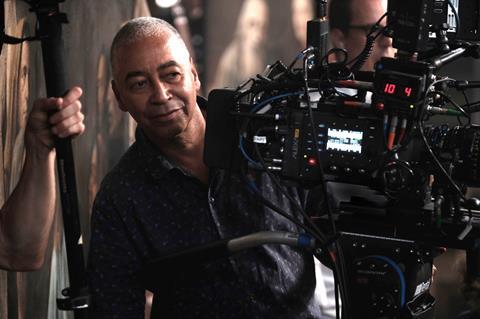 The film-makers pursued a considered, contemplative style of photography. "It wasn't an action film where you cut every two seconds. Dan wanted a very European feel, where shots were held for longer, without quickly cutting back to reverses and over-the-shoulders. He wanted the images to stand up for the audience to look at for 20 or 30 seconds."
The full-frame Alexa LF was perfect, Adefarasin says. "It's beautifully sharp but there's none of this ridiculously heightened-edge contrast. It doesn't have the clinical, 10 o'clock-news look. We did see every thread, but it was rendered in a kind, acceptable way."
Extra resolution is only effective if the scene is in focus, and bigger sensors provide shallower depth of field than smaller ones for the same field of view. While focus control is an easy way to concentrate the audience's attention, keeping the subject in focus requires a talented first assistant.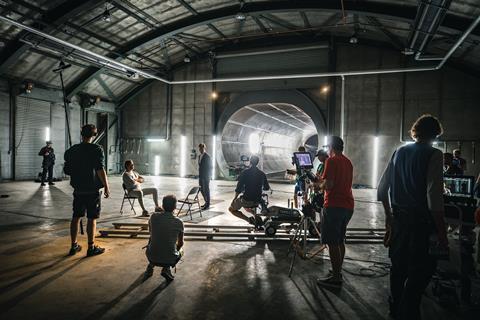 Adefarasin says: "The focus challenges were considerable and serious, but by no means insurmount able. You just need to know what you're getting into. We didn't have to give the actors extra marks, but the first assistant cameraman had to be ultra-clean."
Using the right size of display is key, Adefarasin adds, so it's essential to provide a large monitor for the focus puller: "It's important not to have just a little fi ve-inch monitor by the camera." Lenses that cast an image big enough to cover larger sensors are comparatively rare.
This was one of the reasons Lyrebird wasn't shot on the even larger-sensored Alexa 65. "We rejected the 65mm system because of cost, because of the amount of data, and because we couldn't find lenses that gave us the look that we were after – and we did try many," Adefarasin says.
"A lot of the lenses were stills lenses converted to movie lenses. They're fi ne for using on Leica or Hasselblad cameras, but they had a flaw, in my opinion, when you pulled focus – which was massive breathing. And some of their character was ultra sharp."
In the end, Adefarasin shot Lyrebird on Cooke s7/i lenses, which the firm describes as 'full-frame plus'. The lenses cover full-frame cameras without the look being too critical. Ember Films director Jonathan Jones shot for four days on the production Refugium (working title) using the full-frame Canon C700 FF, part of the Cinema EOS range.
"About half of our business is natural history and the other half is commercials and branded content. As a company, we take our grounding from natural history and put it into commercials. We're very tech savvy, and we're keen to use full-frame cameras and see how they perform," he says.
"Shallow depth of field is nice, but there's more to cinematography. I've done a lot of stereo 3D, where we had to increase the depth of field so you could see the depth of the shot."
Jones enjoyed using the C700 FF. "You've got the full frame, 6K raw, very good frame rate options and the form factor is like a film camera. And you've got the focus tracking," he says.
Autofocus has long been treated with caution in professional camerawork, but Canon's focus tracking is based on its long experience in stills photography. "I was very reserved about the focus tracking," Jones admits. "I've been into a lot of situations with cameras before where marketing says it'll do such and such, which is great on paper."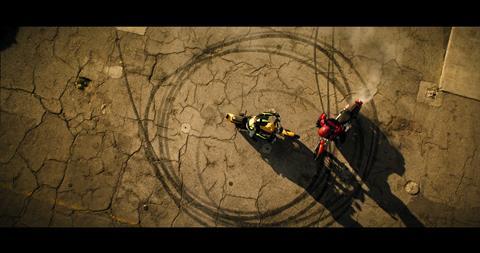 But on this occasion, Jones and his team found Canon's focus features invaluable. "We did a shot of a motorbike coming towards the camera – which was very hard to pull on a 400mm lens," says Jones.
"It was coming towards us at speed and it [the focus tracking] blew us away. It held focus all the way down the road on the first shot. We were able to get multiple variations very quickly where typically we'd have had to do more takes."
The feature is unique to Canon cameras and lenses from the company's L-series in EF mount, so it doesn't solve focus problems for all full-frame shoots.
Until Cooke releases its Anamorphic/i Full Frame Plus lenses, only spherical lenses are available for full-frame cameras. Stills lenses tend to cover full frame since they're primarily designed to work with stills cameras that use the format, but even Canon's CN-E 30-300mm zoom covers only the conventional Super-35mm motion picture frame.
Full-frame cameras invariably come with the option of recording only a smaller subsection of the sensor, so they can use more conventional glass, though that sacrifices many of the benefits of the larger format.
"One of the things I was really keen to test was that to shoot full frame, you have to have full-frame lenses," says
Jones. "If you want to shoot with all the other lenses, they're Super-35. It was always planned we'd have a mixture of formats. And, with them all on the one timeline, it didn't feel like it was drastically different."
IMAGE QUALITY
The popularity of full-frame cameras is down to nothing more than the pursuit of image quality, Jones says: "When you've shot Imax or whatever, it's not scary. I think full-frame is a great future-proofing of content. It's a great way to shoot the largest canvas to capture your images, and when you see it on a large HDR screen, you can see the clarity of the image – it is quite staggering. If you want to deliver a 4K image, you need to shoot 6K. Downsampling makes your image look inherently better."
Adefarasin comes to much the same conclusion. He describes a test screening of Lyrebird that might usually have obscured much of the advantage of a full-frame camera.
"It was projected at the Soho screening rooms, from the editor's machine, so clearly it wasn't 4K. It was compressed, but even seeing it like that, the resolution and the quality of images had a loudness that's hard to put into words. There's a clarity and beauty."
Broadcast TECH - November 2018
1

2

Currently reading

The pros and cons of going large

3

4