'It's an easy to travel, easy-to-binge drama, which can go anywhere'
Distributor DCD Rights
Producer Saffron Moon; Facet4 Media; Potemkino Production
Length 6 x 60 minutes
Broadcaster RTÉ (Ireland); Super Channel (Canada); Acorn TV (int'l SVoD)
International crime thriller Hidden Assets fits nicely into the modern trend of scripted shows that transcend national boundaries.
The series centres on Irish Criminal Assets Bureau detective Emer Berry (Angeline Ball – Keeping Faith, Doc Martin) and Belgian police commissioner Christian De Jong (Wouter Hendrickx – Blackout), who are drawn together by diamonds found by Berry during a routine raid, which are linked to a series of bombings in Belgium. Together, they uncover a political conspiracy involving a corrupt family of historic significance and face a race to stop another terrorist attack.
Besides its on-screen talent, Hidden Assets boasts an international pool of creatives behind it, with Emmy-nominated Into The Storm director Thaddeus O'Sullivan and Belgian Kadir Balci (AMC+'s Cold Courage) helming the six-part thriller. The series is written by Peter McKenna (Kin, Red Rock, The Musketeers) and Morna Regan – who was recently named on the BBC New Talent hotlist.
Saffron Moon's Siobhán Bourke and Kathryn Lennon (Whistleblower, Acceptable Risk) and Facet4's Anna-Sue Greenberg (Acceptable Risk) produce with Peter De Maegd (Cold Courage) and Tom Hameeuw as co-producers.
DCD Rights chief executive Nicky Davies Williams says its multinational element taps into an interest in more expansively geographical stories, spurred by the "Netflix influence" and the "one-world philosophy that has seeped down into all levels of culture".
"Producers are much more open to that, but it's terribly important you have an organic storyline that makes it an authentic mix of cultures," she adds.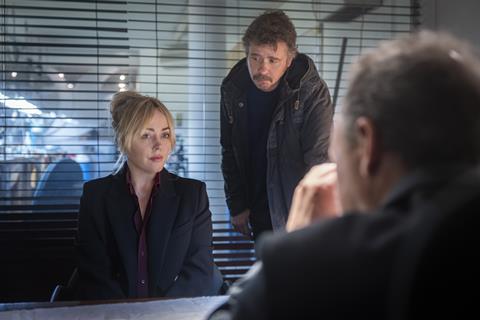 Hidden Assets' broadcast partners are equally diverse, with Irish public broadcaster RTÉ, Canadian pay-TV network Super Channel and AMC drama streamer Acorn TV all boarding the series.
DCD Rights has had initial conversations with buyers and there are "obvious targets" of broadcasters in Australia and New Zealand. "It's an easy to travel, easy-to-binge drama, which can go anywhere," says Williams.
The distributor is launching at Mipcom and is "expecting delivery of programming in the next few weeks", which Davies Williams says is "gold-dust, because most dramas have been hard to complete in this time".
Mipcom Hot Picks: International Scripted
1

2

Currently reading

Hot Picks: Hidden Assets

3

4

5

6

7