'It fits the premium mainstream positioning that we aim for with all our scripted shows'
Distributor A+E Networks
Producer Mopar Sutdios
Length 10 x 60 minutes
Broadcaster Viaplay (Nordics)
Red Election is a contemporary espionage drama that imagines what might happen if Russia interfered in a referendum to decide Scotland's future as part of the UK. A high-stakes thriller, it has echoes of Occupied, a Viaplay/Arte drama in which Russia takes over Norway to control its oil fields.
The 10-part series is produced by Swedish label Mopar Studios for Nordic streamer Viaplay, part of its ambitious plans to turbocharge its scripted output. Despite its strong Nordic links, Red Election is predominantly English-language.
Patrick Vien, group managing director of A+E Networks International, says his company's participation in the show is part of a three-pronged strategy centred on broadcast, production and distribution. "A+E's global success as a prolific producer of unscripted content is a driving force in substantially expanding our pedigree in the scripted arena with partnerships such as this, which are part of our targeted investment in scripted."
The plot of Red Election is still partly under wraps, but it centres on two female agents – one British, one Danish – who join forces to avert a Russian terrorist attack on British soil. The attack is linked to the new prime minister's decision to hold a Scottish referendum. As a reference point, Vien compares it to The Night Manager.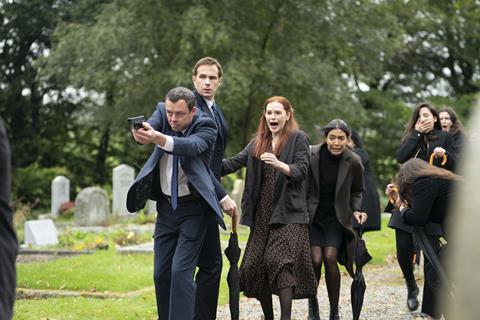 Vien says it is a show that will resonate with global audiences, though he sidesteps questions about its sales potential in Russia. In terms of rollout, A+E's channels, including those in the US, are all potential destinations. "But if it's not right for them for any reason, there are others who will be interested in the series," he adds. "It fits the premium mainstream positioning that we aim for with all our scripted shows."
Red Election is directed by Jill Robertson (Harlots) and Paul Murphy (Death In Paradise) and produced by Veronika Eriksson and Christian Alveborg at Mopar. It was created by Mopar's William Diskay and Jonas Fors together with Ola Norén, Roland Ulvselius and lead writer Stephen Brady (Stan Lee's Lucky Man).
The two agents are played by Victoria Carmen Sonne and Lydia Leonard, while Stephen Dillane (Game Of Thrones) also has a prominent role as a director of MI5.
Vien says high-calibre talent is crucial in such a crowded market: "We're still in the world of 500-plus scripted shows a year, so you need to select projects carefully and add elements that will cut through."
Mipcom Hot Picks: International Scripted
1

2

3

4

5

Currently reading

Hot Picks: Red Election

6

7