'There is an international texture to the plot – including a back story set in Turkey and the Middle East'
Distributor ViacomCBS Global Distribution
Producer CBS Studios; Imagine TV; Universal TV
Length 10 x 60 minutes
Broadcaster Viaplay (Nordics)
Dan Brown's puzzle-solving symbologist Robert Langdon is arguably one of the most famous characters in modern fiction. The central figure in five best-selling novels, including The Da Vinci Code, has also been the focal point of three blockbuster feature film adaptations.
Now, CBS Studios, Imagine Television and Universal Television have brought Langdon to TV, in 10-part drama Dan Brown's The Lost Symbol. Launched in September on NBC Universal streamer Peacock, it is being presented to international buyers by ViacomCBS Global Distribution.
The TV series is based on the third Langdon novel – which has not been turned into a film. In an intriguing refresh, it reimagines Langdon as a younger man – starting out on a journey that will eventually transform him into the seasoned academic portrayed by Tom Hanks in the films.
Co-showrunner Dan Dworkin says the younger version of Langdon "is more brash, self-confident and sceptical than his older counterpart, but he is also encountering things he has never been exposed to before". As a first-year professor at Harvard, "he is yet to confront the kind of zealotry evident in the movies".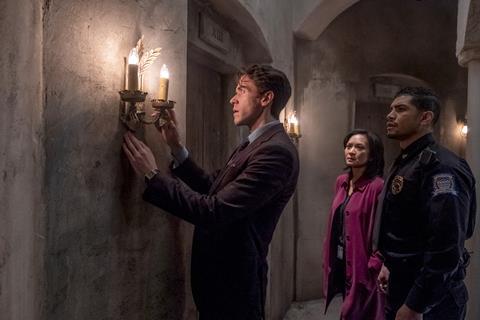 The novel is based in Washington DC, with Langdon sucked into a myth-based conspiracy. Dworkin's writing/producing partner Jay Beattie says the series follows a similar line, "but the stories and characters have been extended to fill 10 hours of TV".
The Lost Symbol is probably the most domestic of the Langdon stories, but Dworkin believes there is plenty to appeal to a global audience – with the ambition that it becomes a returning franchise.
Aside from the Dan Brown factor (200 million global book sales), there is a strong cast, Masonic references and fascination with the US political landscape. In addition, "there is an international texture to the plot – including a back story set in Turkey and the Middle East", says Dworkin.
ViacomCBS's early sales seem to bear out the show's appeal. Deals include Showcase in Canada, Paramount+ Australia, Voot in India and more.tv in Russia.
Mipcom Hot Picks: International Scripted
1

2

3

4

Currently reading

Hot Picks: Dan Brown's The Lost Symbol

5

6

7