'Strong lead characters, good pace and sense of humour throughout'
Distributor Newen Connect
Producer Septembre Production; Itinéraire Productions
Length 8 x 52 minutes
Broadcaster TF1 (France)
Morgane Alvaro, the unlikely hero of French broadcaster TF1's hit drama series HIP (High Intellectual Potential), is a flamboyantly dressed cleaning lady and mother-of-three in her late 30s, who has an IQ of 160.
While her high intellect has never helped in her daily life, this Erin Brockovich-style character's potential comes to light in the opening episode when she 'tidies up' elements on a police investigation board.
The detectives in charge, Céline Hazan (Marie Denardaud) and Adam Karadec (Homeland actor Mehdi Nebbou), realise that Morgane has brought them closer to finding the suspect and decide to bring her on board to help them solve other cases.
Morgane – played by Audrey Fleurot, the star of hit detective series Spiral – agrees to work with the police.
The eight-part police procedural was written by a pair of French TV regulars: Nicolas Jean and Alice Chegaray-Breugnot, who both worked on the serial killer mini-series The Mantis (La Mante) for Netflix.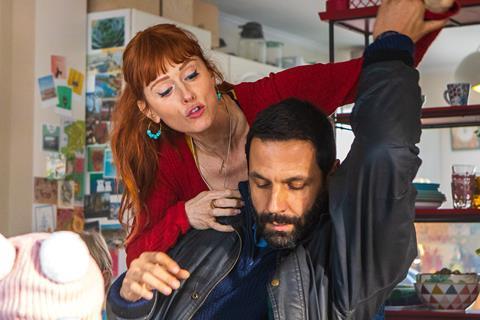 HIP's first series was a ratings success for TF1 when it launched in April this year – pulling in 11.5 million viewers (including catch-up), which equated to a 52% share of the channel's key target demographic of women aged 25 to 49.
Made by Septembre Productions and Itinéraire Productions, the series has already been recommissioned for a second run.
Newen Connect executive vice-president of distribution Leona Connell says the series resonated with audiences "because of its strong lead characters, good pace and sense of humour throughout".
Connell adds that interest from buyers has been bolstered by the fact that fewer procedurals have emerged from the US due to the pandemic.
The series has already sold to Rai 1 in Italy and Antena 3 in Spain. Other buyers include Sony in Portugal and NPO in the Netherlands, as well as Swiss broadcaster RTS and Fox in Poland. Newen has also sealed a pan-Latin American deal and sold HIP into Germany, the Balkans, Slovakia and the Czech Republic, Greece and Canada.
Mipcom Hot Picks: International Scripted
1

2

3

4

5

6

Currently reading

Hot Picks: HIP (High Intellectual Potential)

7