'Crime has two things in abundance that help it's global appeal: strong IP and talent'
Distributor Cineflix Rights
Producer Buccaneer Media
Length 6 x 60 minutes
Broadcaster BritBox (SVoD), ITV (UK)
Trainspotting author Irvine Welsh's first TV drama, Crime, is based on his eponymous novel about troubled detective Ray Lennox, who is investigating the abduction of an Edinburgh schoolgirl.
Lennox is played by Batwoman's Dougray Scott, who became fixed on playing the serial killer-hunting detective after reading the novel. He also helped convince Welsh to bring his work to TV, alongside screenwriting partner Dean Cavanagh.
Cineflix Media-backed Buccaneer Media (Marcella) was first approached by Scott, who is credited as an executive producer, when the series was in development.
According to Buccaneer co-chief executive Richard Tulk-Hart, the show's development journey took four years, during which the adaptation changed "dramatically".
"A large part of the book was set in Miami, where the detective is located for a while and gets involved in another case, but our series is filmed entirely in Scotland," he says. "We chose to focus on the first quarter of the book rather than the whole novel and this is down to Tony, Dougray and Irvine zoning in on the bit of story they found the most interesting."
One of the first tentpole originals to come from ITV- and BBC-backed streamer BritBox (although ITV also has the rights to broadcast the series), the six-part drama went into production at the start of the pandemic, which added an extra layer of complexity to the Edinburgh-based shoot.
"We had to stop filming a couple of times, but because of what we'd learned through making [Acorn drama] Whitstable Pearl earlier in the year, we took a more rigorous approach without budgets going crazy," says Tulk-Hart.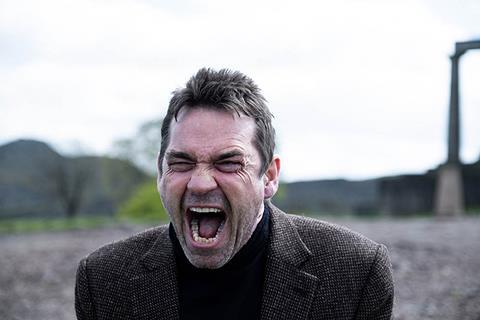 Cineflix Rights head of scripted James Durie says the distributor has been following Crime "from the word go" and was quick to step in and deficit finance the series once it had been commissioned – despite the onset of the pandemic.
"We've always felt this was a show that could work well globally," he adds. "Crime has two things in abundance that really help: strong IP and talent. It's based on a best-selling book by a big-name author, with a strong cast led by Dougray and a Bafta-winning director in Broadchurch's James Strong."
Currently in post-production, the series was directed by David Blair (The Barking Murders), and other cast members include Angela Griffin and Ken Stott. Crime is set to air on ITV before the end of the year.
According to Durie, Crime has attracted interest from territories such as Germany, France and Italy, where Welsh's books have enjoyed strong sales. In terms of platforms, both traditional broadcasters and SVoDs have been in contact.
The fact the drama only covers the first quarter of the novel also lends itself to a second series.
"The book is an incredible collection of stories and for TV there is just so much to be developed," says Durie. "It's the characters Welsh creates that jump out at you. They are larger-than-life and hold the darker elements together. That is such a good thing to have in TV drama because it's so character-driven."
Mipcom Hot Picks: UK scripted
1

Currently reading

Hot Picks: Crime

2

3

4

5

6

7