Parents join their children at primary school
Distributor Passion Distribution
Producer Firecracker Films
Length 4 x 60 minutes
Broadcaster Channel 4 (UK)
Described as "a cocktail of social purpose and warm-hearted entertainment", Channel 4's The Class Next Door gives the parents of 11-year-olds the chance to experience primary school alongside their children.
For one term, a class of parents study the same curriculum as their children, sitting in the classroom next door. They wear the same uniform, attend assembly and face the same discipline should they misbehave.
Elspeth O'Hare, executive producer for Firecracker Films, says the series was born out of a desire to understand the pressure put on primary school children today by SAT exams and recent education reforms.
"There's a universal feeling that school is getting harder and this is about trying to understand that pressure," she says. "It's given the parents a real insight into their children's experiences and helped their relationships."
This focus on the relationships between the participating parents and their children sets The Class Next Door apart from other education- themed shows and school-based formats, O'Hare says.
"There are so many programmes out there about schools but this one really goes to the heart of that relationship," she adds.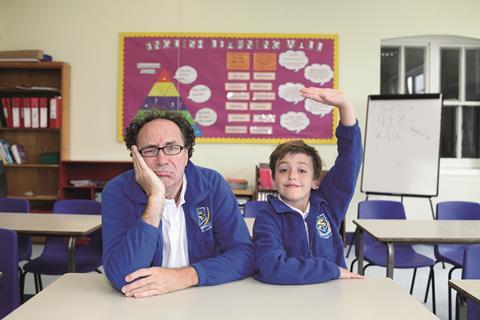 With a projected shoot of six weeks, the production team were tasked with whittling down a list of 500 schools in the north of England that were prepared to house a classroom of parents for a term while normal classes continued.
"That was tricky for the school, which had to make sure the education of other children didn't suffer," O'Hare says.
Parents were required to film two to three days a week, a timeframe that allowed them to keep their jobs. "They all managed to get a bit of holiday or cover and it was extraordinary how much they wanted to do it," she says.
Finding a strong-performing school with a trusted head teacher was key. "We knew there would be much more chance of parents taking part if the head teacher was someone they trusted," she adds.
Finally, the production team focused on "constructing an authentic experience" while allowing the fun and mischief of the displaced parents to flourish.
Passion Distribution head of sales Nick Tanner says the universality of the school experience will ensure the show's success on the world stage. "School is fundamentally a universal experience," he says.
"It's different in different cultures and parts of the world, but it's something everyone goes through."
This universality and "opportunity to show diversity" makes the format "hugely adaptable" for international broadcasters, Tanner says.
He reveals that "the phone has not stopped ringing" since C4 and Firecracker announced the show in April.
Interest has been especially strong in northern Europe, Australia and Canada, which Tanner says "have been asking for updates since the start of the year".
However, he expects interest from more territories once Mipcom gets under way. "The Class Next Door is one of our main shows for the market and we're looking forward to getting out there and promoting it in Cannes," he says.
Mipcom Hot Picks 2017: Factual
1

2

3

4

5

6

7

Currently reading

Hot Picks: The Class Next Door