The scale and complexity of producing different versions of a show often fl ies under the radar, yet the process can be critical for maximising international sales, writes Adrian Pennington
Content localisation – the process of creating compliant and culturally appropriate versions for inter national markets – is growing in complexity and volume.
The Media & Entertainment Services Alliance (MESA), which organises a Localisation Council of content owners, distributors and vendors, calculates that the market for services in Europe and the Middle East generated $2bn (£1.5bn) last year. This is expected to grow by 10% annually to hit $2.5bn (£1.9bn) by 2020.
"Localisation is the biggest single cost in our global distribution process and is, in many ways, the most complex," says Brij Sharma, head of supply chain strategy and localisation at BBC Worldwide.
"Volumes have increased significantly over the past three years and continue to do so in emerging markets such as China and India. For example, a new language for a single channel fully localised can represent an increase in volume of around 850 new hours per year."
In part a function of volume, complexity is also increasing as content owners look to deliver their programmes faster, in more languages, to different platforms. Localisation doesn't merely create a new text or audio file. In order to comply with local rules, there's a need to create new editorial versions, which are often delivered at a later date.
According to Sharma, this adds further complexity in terms of management across technical, commercial, legal, financial and creative teams, and in terms of keeping track of content versions.
"Knowing how multiple content elements for a given programme are related to each other is an increasing area of focus, pushing us to challenge the way we do things and to look at creative ways to use existing resources and new technologies."
"It's not just taking a programme and slapping a language on it. There are different technical standards, ranging from pre- and postwatershed versions to removal of product placement"
Ian Brotherston, TVT
There is an effort among specialist suppliers, supported by MESA, to raise the profile of what has traditionally been bracketed as 'sub and dub' even among broadcaster and studio personnel.
A sales exec might offer a new series at Mip to a distributor and sign off on delivery in 17 languages by the end of the next week without understanding the pressure on turnaround times this creates.
"It's not just taking a programme and slapping a language on it," says TVT chief executive Ian Brotherston. "There are different technical standards ranging from pre- and post-watershed versions to removal of product placement.
"If you manage, say, The Walking Dead [which TVT handles for AMC], you need a downstream understanding of what is appropriate in each market to maximise worldwide sales for the content owner."
IMPACT OF ON-DEMAND
Julian Day, business development director at Zoo Digital, says online platforms have raised the bar in terms of quality, even for catalogue sales.
"Previously, broadcasters were not paying much for subtitling and it was often the last thing they'd think about. Now, when it comes to licensing titles abroad, they find the original subtitles aren't good enough. They have to recreate or conform them and get them up to spec."
Dubbing accounts for the largest portion of revenues – MESA puts the figure at 70% – in this sector. "Experienced linguists and subtitlers will know how to create a lip-sync dubbing script that is as true as possible to the original," says Day.
Acting as well as language skills are required to translate dialogue with the same nuances as the original. There's a "significant shortage" of such skills in some markets, according to MESA, exacerbated by voice talent being tied into long-term contracts with suppliers or shows.
"It's a major concern," says executive director Jim Bottoms. "Given the growth in demand, content producers and their supply partners are keen to expand the talent pool to avoid serious capacity shortages."
Zoo Digital has tried to address this with an online cloud-based service that aims to give casting directors access to more voice artists globally. Live video direction of dubbing sessions and real-time collaborative script review is also carried out online.
The method of translation is key in versioning. Whether to meet local language needs and expectations via voice over, lip-sync dubbing or subtitling is based on local cultural norms and regulations.
Operator brand identity may necessitate re-scripting for voiceovers. Some channels rescript and re-voice the narration to match the channel personality and house style – even in the same language.
"For example, two of our clients broadcast Ice Road Truckers, a show about drivers who take on some of the most dangerous frozen routes in the world," says Andy Steele, vice-president of operations at TVT.
"One wants just the original US version – Americanisms and all – while the other wants a distinct UK version, with the narration done in a British accent, using terms the local audience would use."
Another aspect is ensuring content is fit for the target platform. This includes viewing it then marking changes based on factors such as duration, what's going on in each scene, age rating and local regulations, which can cover sex, violence, bad language, product placement and religion.
"The process must also ensure regulatory compliance for audio loudness and flash patterns or certain instances of varying luminance that can trigger epilepsy," says Brotherston.
"All these guidelines need to be codified for each piece of content, depending on country and platform of transmission, along with the broadcasters' own brand values. Time of day is also important."
BARBARIANS RISING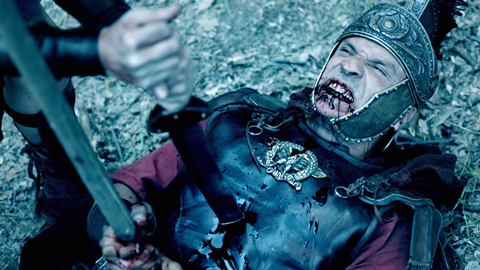 A+E Networks' docudrama required compliance and versioning for European markets including the UK, the Netherlands, Poland, Russia and Croatia.
A key part of the brief for TVT was to create softer versions for daytime slots while maintaining the harder-hitting versions for a post-watershed audience.
This meant dealing with the extreme violence and gore depicted in many parts of the series – which is intended to reflect historical accuracy in the dramatisation sections – while remaining sensitive to the tension, drama and flow of the storytelling.
Special care was taken to deal with violence against children, which is depicted in several scenes in Barbarians Rising. In preparing the daytime versions, TVT editors made cuts just before or in the midst of very graphic scenes – for instance, retaining a sword combat visual right up to the moment a blade has struck a body, but before the spray of blood.
While photosensitive epilepsy (PSE) triggers usually mean strobe lighting or flash photography, in this case, variations between light and shade, and the glint of steel weapons, had to be monitored and dealt with.
Failure to pick up on even seemingly small taboos and rules can have a high price. TVT gives examples such as allowing use of the word 'prick' pre-watershed in Ireland, where research shows it is deemed more offensive than 'fuck'; showing a tattoo on screen in South Korea; using 'God' as an exclamation in Poland; allowing US-style product placement in the more restrictive European market; or depicting conspicuous drug use for a broadcast in Japan.
Once the issues are identified, craft editors adjust the content while retaining production values. "The content needs to remain in keeping with the programme aesthetic and work for all the audio and subtitle language translations," says Brotherston. "This requires continuity of skills and understanding of the content to make sure that edits don't damage the storyline."
Masks, cover shots (programme b-roll) and colour correction can be used to retain the integrity of content and voiceover.
Additional edits of on-screen graphics and captions to localise them for non-English-speaking markets may be required, as well as a credit for the localisation performers.
ENHANCED VERSIONS
Increasingly, platforms are requesting 'enhanced versions', with extra scenes or graphics. "Linear viewers might be attracted to the enhanced OTT versions of their favourite show, giving content owners a second bite at the cherry," says Brotherston.
"This generates additional complexity in version IDs and rights management, and can lead to content having a much longer tail [requiring it to go into longer-term archives with multiple versions that require additional storage systems]."
While compliance editing will generally involve removal of content, some firms take picture localisation to extraordinary lengths. Pixar Animation created 7,482 new shots for international versions of Cars 3, making artistic changes to frames or whole scenes.
For example, substituting language-appropriate text in newspaper headlines to ensure a joke or plot line is not missed.
For a scene in Inside Out featuring a child refusing to eat broccoli, Pixar changed the vegetable to peppers for distribution in Japan. "Everyone eats broccoli in Japan. But they hate green peppers," says Eric Pearson, home entertainment supervisor at Pixar.
TRACKING PROCESS
Underpinning the whole chain is a minutely detailed tracking and reporting process. Once manually administered on spreadsheets, it's now increasingly part of a media asset management (MAM) system. For increased flexibility and ease of access, vendors like TVT and Zoo Digital have also centralised their MAM in the cloud.
With such complexity, it would be a logical step to introduce automation to streamline services. Indeed, some proponents of machine learning suggest that incumbent service providers are reluctant to introduce new technology for fear of damaging their revenue.
"For the same amount of money you spend on a transcription house, you can use machine learning today to deliver speech to text, localisation and an almost infinite other variety of data tasks," says Josh Wiggins, chief commercial officer at metadata solutions provider GreyMeta.
"At the same time, you end up with richer content because of the comprehensive and detailed metadata that results from applying artificial intelligence."
However, automatic transcription is still a long way from converting a soundtrack into accurate text in real-time. According to subtitling specialist Screen Systems, the challenges include sound effects and background music, different voices and accents – and switching between them – unexpected vocabulary and punctuation.
WAR FOR THE PLANET OF THE APES
Digital Media Services (DMS) was responsible for creating 500 promotional assets, including localised TV and social media spots, digital billboards and a variety of online content to support worldwide distribution of Fox's theatrical release War For The Planet Of The Apes.
To work on the assets, DMS received master files from the Fox Media Cloud system and uploaded them to its own platform, Panther Online.
"Requirements vary considerably, with some countries requiring one or two traditional spots to support their marketing, while other countries order 20 and even up to 40 bespoke variations," says Michael Petch, director of customer services.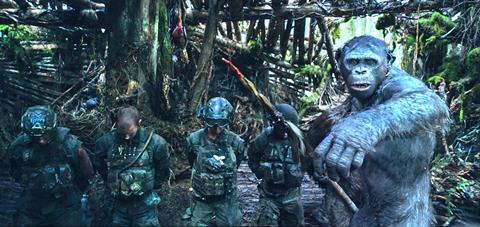 Many of the briefs only specified the text needed for the call to action details per asset, leaving DMS responsible for incorporating local specifics such as voiceover, age ratings, URL and social media tags.
Voice artists recorded the localised voiceovers at ADR facilities. In most instances, content was also dubbed and subtitled, while graphics cards were created to match the quality of the studio's masters. Locallanguage-speaking customer service co-ordinators checked every asset before sending to Fox for sign-off.
A glaring illustration of this occurred when Newcastle United was referred to as 'the black and white scum' in an automated mistranslation of a presenter's words during Match Of The Day 2 in September.
"AI translation technologies have improved greatly in the past few years… [but] we do not believe that the toolsets on offer today can replace human input when it comes to adapting long-form content such as drama," says Sharma. "In our experience to date, it's often quicker to start a translation from scratch than to start from whatever base a machine might create."
Zoo Digital's Day suggests that a good translator can accept or edit suggestions from a machine, "but it's a supporting tool at this stage. Ultimately, we still rely on a human check."
Pinewood, which creates formats for theatrical content, is investigating the use of language-specific speech recognition as an extra step in its QC workflows, but says reliability is an issue – especially when it needs the tools to recognise 44 languages.
TVT has speech and image recognition software in beta. "We are starting to use AI from the EDLs and metadata we've previously created," says Brotherston.
"Image recognition might be useful in a future editorial process – for example, if there's a real-life plane crash we could search programming for incidents of plane crashes and alert broadcasters, or reedit and redistribute the video as needs be."
"Each piece of content is in effect a project, with its own sets of rules around which version to create, what voices to cast, merchandising, rights and so on"
Brij Sharma, BBC Worldwide
Benefits from automation are most likely to be derived in workflow management and orchestration, to reduce duplication.
"Each piece of content is in effect a project, with its own sets of rules around which version to create, what voices to cast, approvals, merchandising, rights and so on," says Sharma. "This is highly labour intensive, so a good candidate for automation."
Broadcast TECH - December 2017
1

2

3

4

5

Currently reading

The problem of localisation