"This show combines the spirit of Fantasy Football League with the gameplay you see on panel shows in a quasi-domestic setting"
Distributor Avalon
Producer Avalon Television
Length 8 x 30 minutes
Broadcaster Sky 1 (UK)
The title of Comedians Watching Football With Friends says all you need to know about this simple, funny format. Created by UK producer Avalon Television, the Sky 1 show builds on football fans' enjoyment of watching their teams' performances being assessed by people they love watching on TV.
Avalon came up with the idea to try to create a modern successor to comedy duo Frank Skinner and David Baddiel's BBC2 series Fantasy Football League, which aired in the mid-1990s.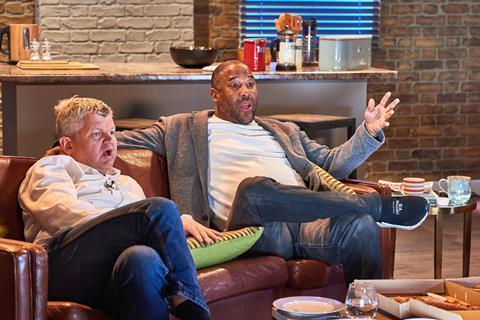 The 8 x 30-minute format features UK comedians such as Nish Kumar, Jon Richardson and Lee Mack, who watch two televised weekend matches and offer analysis from the comfort of a sofa.
The conversation around each game is recorded in two sitting room-style studios simultaneously, as Taskmaster producer Avalon reflects what is happening in houses up and down the country.
"If you get the right combinations of talent, then these pairings can be very entertaining when talking about any subject," says exec producer Rob Aslett.
"Football's a very good jumping-off point for conversation – it's accessible. This show combines the spirit of Fantasy Football League with the gameplay you see on panel shows in a quasi-domestic setting."
Avalon's distribution arm is taking a measured and targeted approach to sales, according to director of distribution Isobel Hughes. She will begin by targeting broadcasters that have the rights to show domestic football in their country, but will not be limiting the format's sales potential to the beautiful game.
"This is transferable to any major national sport – be that ice hockey or baseball," she says.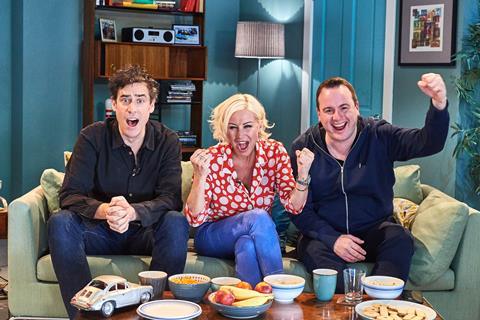 Aslett agrees: "If you can get this set up within a territory, it can then be produced at volume."
The format has already elicited interest from Spain for the football version and the US for a different sport. There are also opportunities for finished tape sales, but they will be targeted at English-speaking territories.
Aslett plays down any fears that broadcasters with sports rights would be put off by "cannibalised coverage".
"This is not setting out to tread on the toes of the normal football punditry. It's taking a different look and approach to the same subject matter," he says.
Formats
1

2

3

4

Currently reading

Hot Picks: Comedians Watching Football With Friends

5

6