'The whole idea of asking people to refrain from doing something immediately sets it apart. I couldn't get on board fast enough'
Distributor Banijay Rights
Producer Banijay Studios North America
Length 8 x 60 minutes
Broadcaster ABC (US)
From Hollywood actor and executive producer Ryan Reynolds, Banijay Studios North America and Parks And Recreation star and host Adam Scott comes a new show in which families can win up to $100,000 (£80,000) by following one deceptively simple rule: don't.
Currently in post-production, Don't will join broadcast network ABC's primetime schedule in early 2020. Banijay Studios North America chief executive David Goldberg explains the concept as a family of four competing in physical and mental challenges over a 60-minute episode to win cash prizes – with all tasks connected by the word 'don't'.
"This might be something simple like, 'don't blink', or it could be 'don't look back' as a giant Indiana Jones-style ball races along behind you," he adds. "Contestants are rewarded for not doing things they really want to do, so 'don't drink' may be not drinking something to cool your mouth after you've just eaten very spicy food."
Goldberg says the US version of the show will have all the hallmarks of a noisy primetime shiny-floor gameshow, with a "subversive comedic feel". He adds: "You really need to break the mould in TV these days, so Don't has a kind of mockumentary humour, which is where Adam Scott comes in. He's very funny, but also genuine and relatable around the families."
Scott, most recently seen in Big Little Lies, is the latest in a long line of high-profile actors to spice up their on-screen career with gameshow duties. Scott tells Broadcast he was attracted by Reynolds producing and Banijay's strong entertainment track record.
Of the show itself, he says: "The concept is unique. The whole idea of asking people to refrain from doing something – that being the thrust of the show and the key to winning it – immediately sets it apart. It is much, much harder than it sounds, and so much fun to watch. The idea of mixing gameplay with comedy was exciting as well – I couldn't get on board fast enough."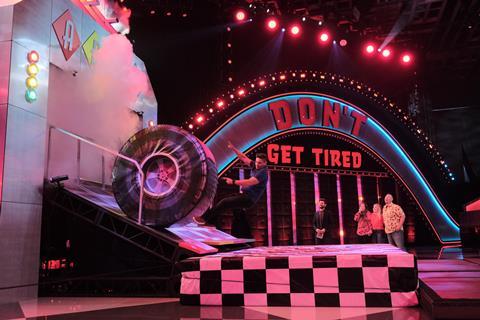 As with Scott's on-screen presence, having talent like Reynolds playing a role in production is another growing trend in Hollywood format circles. "Ryan and his team really played an active role in shaping Don't," says Goldberg. "Producer isn't a vanity title designed to attract attention here – he really participated."
In Goldberg's opinion, the show definitely has potential to be adapted internationally. "Don't has the kind of simple, universal idea you need for an entertainment show to travel and is also scalable," he says. "The US version will be very big and have its own stylised 'Don't world' for a set, but that can be tailored to channel budgets."
He says the format has similar attributes to cost-effective hub productions such as Fear Factor and Wipeout – both of which he worked on – meaning that could be an option.
As for its potential for growing into a major franchise, Goldberg doesn't want to tempt fate with bullish predictions, but says it does have "the feel of a show that can run", adding: "Comedy has no limits and there are lots of directions you can take the Don't idea, including challenges that are actually a play on words."
He points to a challenge titled 'Don't get tired', which is not about staying awake but about avoiding getting run down by a huge tyre. Goldberg says there are no nasty production surprises lurking behind the scenes.
"The beauty of us making the show for ABC in the US is that everything has been ironed out," he adds. "There are things we might change if there are future series, but for buyers, the show will come to them having been tried and tested."