'The key to this show was to find authentic, engaging characters – and that's a message for anyone thinking of making it'
Distributor Twofour Rights
Producer Twofour Group
Length 4 x 60 minutes
Broadcaster Channel 4 (UK)
Sink Or Swim was a summer hit for Channel 4, averaging around 2 million viewers across its four-episode run. It was especially strong among young audiences, taking up to a 25% share of 16-24s in its time slot.
Produced by Twofour Group, the four-part special took an eclectic group of non-swimming celebrities into the water in support of charity Stand Up To Cancer. The group were given just 12 weeks to overcome their fears and prepare to swim the English Channel, a distance of about 20 miles.
Twofour chief executive Melanie Leach says the idea evolved from a conversation with C4's then head of entertainment Ed Harvard, who had read an article in which singer John Legend revealed he could not swim.
Twofour has much experience in getting celebrities to learn new skills: diving in Splash! and ski jumping in The Jump. Was swimming rather pedestrian by comparison?
Not according to Leach. "The appeal of swimming is that people can really relate to it, because so many have experienced how hard it is," she says. "It's an authentic task, not a stunt dreamed up by a TV producer. That's important, because people are looking for authenticity in all aspects of their lives."
Leach notes that around a quarter of British adults cannot swim, for a variety of reasons, which affects a diverse range of communities and means the celebrity casting net can be spread wide.
As the format has a swimming-based precinct, there is the option to go down a Love Island route of candidates with buffed and toned bodies, but Leach says the only criteria that mattered was whether or not the celebs could swim.
"We featured former Olympians like Linford Christie and Tessa Sanderson, an overweight ex-reality TV star in James Argent and TV presenter and journalist Alex Brooker, who has challenging disabilities," she says. "The key to this show was to find authentic, engaging characters – and that's a message for anyone thinking of making it."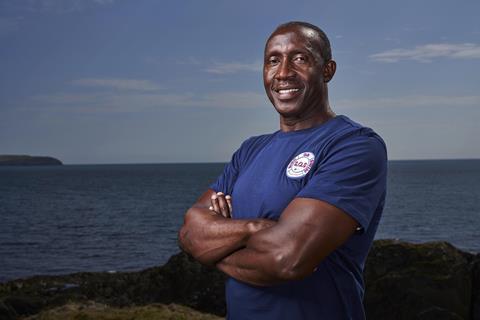 Leach says the format does not necessarily have to feature a celebrity cast. "But I certainly think the idea of Olympic athletes not being able to swim connected with viewers," she adds. "Alex's bravery also drew a really strong response from the audience."
The production schedule was built around the 12-week swimming programme, designed by specialist firm SwimQuest. To maintain narrative momentum, the celebrities undertook a punishing qualifying swim at the end of each episode, which was effectively an elimination dynamic as only those who completed these challenges could take part the Channel swim.
The British presenters were Olympic silver medallist Keri-anne Payne, Paralympian Ellie Simmonds and Ross Edgley, known to British audiences as the first man to swim around Britain.
"Ross was a revelation," says Leach. "He really motivated the celebrities and knew when to beast them and when to sympathise with them."
Leach says key challenges included participant safety and finding ways to "really capture the swimming experience close up – so that it didn't feel remote to viewers".
To that end, Twofour spent significant time communicating with specialist camera companies.
The show's official launch is at Mipcom but Leach says there have been informal chats with buyers already. "Many countries have similar stats regarding swimming, so it's a universal topic, and many have iconic stretches of open water," she says. "In the US, you could imagine celebs swimming out to Alcatraz Island."
In the final episode of the C4 show, the remaining celebrities attempted to swim the channel in relay, with each spending an hour in the water at a time before handing over.
Sadly, bad weather meant they were forced to abandon the attempt four miles from the finish. "It was heartbreaking for them, but from a television point of view, it does mean there is unfinished business for another series," says Leach.
Formats
1

2

3

4

5

6

7

Currently reading

Hot Picks: Sink Or Swim