'This has universal appeal and will provide great co-viewing. It will bring in female audiences and younger viewers'
Distributor A+E Networks International
Producer Coco Content
Length 1 x 60 minutes (pilot)
Broadcaster Virgin Media TV (Ireland)
With an on-air pilot currently being produced in Ireland, Generation Dating is a format that offers a new angle on the dating show.
The pilot, produced by Coco Content, will air in primetime on pay-TV channel Virgin Media One in November. The pilot was the result of an annual internal pitch competition run by the channel. Distributor A+E Networks International has subsequently partnered with channel owner Virgin Media TV (VMTV) to take the format to the global market.
Dating coaches
Generation Dating takes two single strangers – one old and one young – and asks them to help find a partner for each other. They are paired not as a couple, but rather as personal dating coaches.
Once they have tracked down an eligible singleton, they plan a unique dating experience. Each contestant gets a makeover before their date, and the pair meet for a debrief afterwards to find out how it went and what they have learned.
A+E Networks head of format production and acquisitions Hayley Babcock says it differs from other dating shows where a date – whether good or bad – is the only pay-off. By comparison, she says, Generation Dating offers many levels of entertainment and gratifying moments for the viewers and the participants.
First, Babcock notes, there are the dates and makeovers. Plus there are plenty of take-aways from two very different points of view regarding how to go about finding love. Added to that, she says, "maybe most importantly and heart-warmingly of all", there is the possibility of friendship between members of different generations who might discover they are not so different after all.
Babcock says casting is key to the format and is more complex than for the average dating show. It needs to pair two singles looking for love, who are at opposite ends of the generational divide and would never normally meet, let alone get advice from one another.
But casting does not end there; a selection of potential dates also must be found for each of the singletons. "Yes, the singles themselves do most of the searching – since that is the key to the format – but the production team still has to do what it takes to put a show together," says Babcock.
A+E got involved in the production at an early stage, having been looking for new formats in which to invest – both creatively and financially – for some time.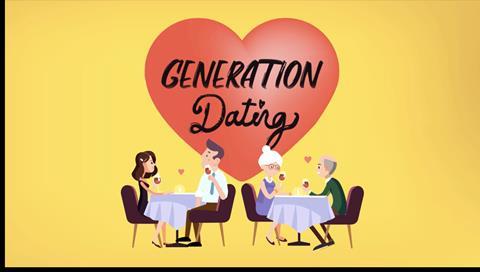 "This one started with a conversation between one of our sales executives, Robyn Hurd, and VMTV," says Babcock. "VMTV was looking for a partner to help make this an international format, so we threw our hats in the ring and, to our great joy, we got it."
Babcock says A+E is launching the title at Mipcom and is looking to secure commissions for local versions of the format, but will do option deals as and when they make sense. "We will start with it as a format, of course, since there is no finished product yet, but when those come, they too will be available for sale," she adds.
Babcock believes it is a viable option for both linear and digital platforms. "This has universal appeal and will provide great co-viewing," she says. "It will bring in female audiences and younger viewers. We believe it can run the gamut."