The AxisVFX team talk about their extensive CG work creating believable avatars and an imagined VR gaming environment for Channel 4 and Netflix's inventive drama series Kiss Me First
The lives of the characters in the ambitious Channel 4/Netflix thriller Kiss Me First – based on Lottie Moggach's debut novel of the same name and created by Skins writer Bryan Elsley – play out in both the real world and a VR game.
AxisVFX conceived all the CG environments and avatars for the game sections, with its team of up to 40 artists working on Kiss Me First for around 18 months. In total, it worked on 504 CG shots, amounting to around 50 minutes of content over six episodes.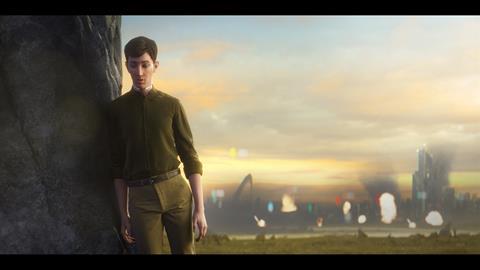 "It's about a group of twentysomethings who all play a game called Azana. It's Second Life meets Facebook meets Call Of Duty meets Need For Speed," says AxisVFX cofounder Richard Scott.
"The avatar of Leila, the lead character, is called Shadowfax, and she discovers this secret area in the game that she can't initially get into, which is called Red Pill," he continues.
"It's beautiful looking, with a lake and waterfalls and she finds a group of kids who hang out there who describe themselves as 'fucked up'."
Shadowfax is led to Red Pill by a character called Adrian, who turns out to be the antagonist in the storyline.
Shadowfax discovers Adrian is up to no good in the virtual world, and possibly the real world too. He pushes the characters to the edge: some take their own lives; others start attacking one another in the real world. The story follows Leila and another character called Tess (whose avatar is called Mania) as they try to uncover what Adrian is up to.
AxisVFX animation director Kan Muftic, whose background is in concept art for video games, worked closely with writer Elsley to design the appearance and feel of Azana as well as all the different avatars of the characters. He started with a blank canvas.
"I brought in a bunch of people to work on the project and we sat down and created the look and feel of what this Azana world would be like," says Muftic.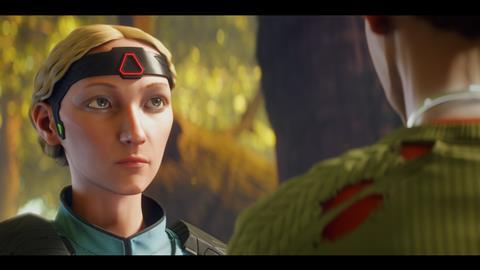 "We spent some of the longest time I've ever spent in character development as it was really important to get the avatars looking right. They needed to resemble the likeness of the characters in the real world, but at the same time also be clearly video-game avatars and not badly animated CG people, which is so often the case."
There are eight main characters in the drama and they were initially devised and sketched out in 2D by Muftic's team, whose key challenge was to balance realism and believability.
"For me, there's a big difference between realism and believability. I believe it's not down to the realism of the characters, because you can create perfect realism, it's the believability," says Muftic.
"You can compare that with the very crude animation styles of shows like South Park and The Simpsons, where you see an inanimate object and you can relate to it and its emotions. To create characters that emote, you can relate to and that really project emotions and drag you into the story, it's important to give them a sense of believability, but not necessarily the perfect likeness.
"For Kiss Me First, we tried to find a way to replicate the art of JC Leyendecker, who had a distinct style of portraying people. It's this typical 1920s, 1930s man with slightly chiselled features and women with big cheekbones. We tried to bring that into the video-game world, which hasn't been done before, and it took a long time to get there at the conceptual stage."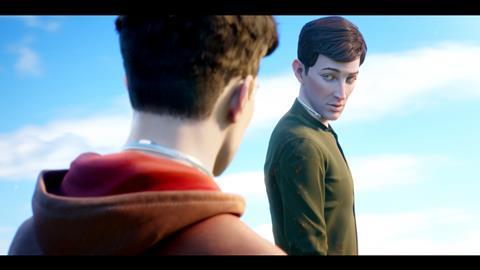 Once the 2D depictions of the characters were in the bag, the character development was handed over to AxisVFX CG supervisor Drew Robertson.
"It took quite a while to get the character 2D artwork approved, and then one of the hardest things we all went through was taking the 2D artwork and turning it into 3D that still worked and didn't lose a lot of the characteristics that Kan had put in," he says.
"It was a difficult stage of the project but once we were happy with the characters, the client was happy too."
A similar amount of time and energy went into creating Azana. Muftic says: "The design phase was extensive, with a lot of research, a lot of concept illustrating, and a lot of time spent finding the right visual language. We have a beautiful, lush, sunny environment, but also a very dark, digital environment. Some places are very scary; some are romantic and safe."
With the landscape of Azana and the appearance of the different avatars at a reasonably well-developed stage, AxisVFX created detailed storyboards for the sections of the story taking place in the gaming environment, in preparation for a motion-capture shoot at The Imaginarium Studios.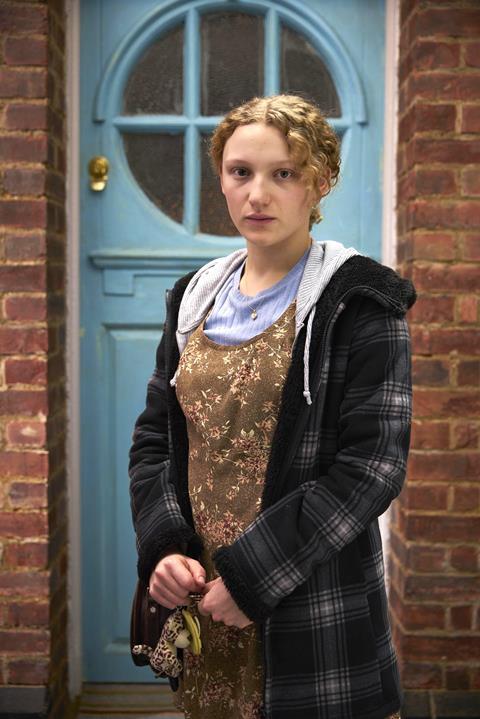 "We pretty much storyboarded the whole thing," says Muftic. "With animation, you have to be prepared and really know what you're doing as everything is so complex; there's no space for improvisation.
"In motion capture, it suddenly comes alive, and no matter what you plan beforehand, once you put the element of real people in the room, it takes on an unexpected dynamic and immediately the actors own the scene."
The next challenge was educating the production team on what was and what wasn't possible with the motion-capture data.
"From the producer to the line producer to the execs on the live-action side, there was a massive learning process about what is a motion-capture shoot and what the live-action cameras on a motion-capture shoot really represent," says Scott.
AxisVFX producer Paula Bird adds: "There was a lot of hand-holding at every review, telling them what they were looking at regarding the cameras and timings. It was conversations such as: 'In this review you're looking at just the actor's performances, don't worry about what angle the camera is pointing at.
"This review is so you're happy with the actor's performance, and that's all. If you are, we'll take that and input it into the animatic and you'll see that at a later stage.'"
The motion-capture shoot not only gathered data on the movements of each actor, it also captured data for the facial animation. "We had head-mounted cameras filming their faces and we worked with Cubic Motion, which processed all that video into facial data, which we then applied and altered or chucked away altogether," says Scott.
Muftic has strong opinions on how the facial animation data should be used. He says: "I'm one of those people who will turn off a film if they see a bad facial animation. I studied anatomy and if I see muscle moving when it shouldn't, or a bone showing up where it shouldn't, it really annoys me.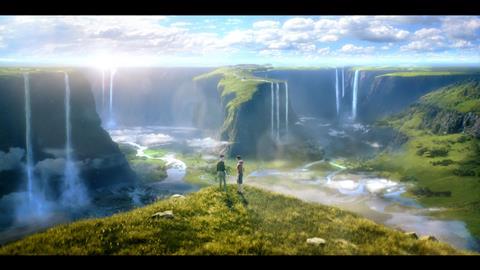 "I was very demanding about it and sometimes we would completely recreate facial animation from scratch just to get the right feeling. Motion capture is so precise these days, if you apply it from the real face to the digital one, there can be too much information there and it doesn't work."
After much tweaking and perfecting, Bird says things began to slot into place for Azana and the characters within the game. "The turning point was when we were delivering refined animation previews along with the lit masters, where the client could finally see the emotion the characters were delivering," she says.
From then on, "they were approving animations sometimes on first review", says Bird. "We're so used to our games clients being pixel critical, we weren't prepared for such a positive response."
Scott adds: "It was a huge project and while we've done projects of that duration before, the biggest thing here was designing and conceptualising the entire thing from the ground up; how we saw it all coming to life."
Robertson concludes: "We were delivering more than we were expected to and they could see that. We were happy with what we were putting it front of them and they were just so into it."
Production details
Name Kiss Me First
Episodes 6 x 60-minutes
Production Kindle Entertainment / Balloon Entertainment
VFX AxisVFX
Post The Farm Group
See it Channel 4, Mondays at 10pm from 2 April / Netflix (international broadcast rights)
Broadcast TECH - April 2018
1

Currently reading

Creating a virtual world for C4's Kiss Me First

2

3

4