"It covers everything from Greek temples to World War II landings to medieval torture chambers"
Distributor Banijay Rights
Producers SWR Media in association with Dash Pictures
Length 6 x 60 minutes
Broadcaster TBC
Ray Winstone's World: Sicily is a travelogue that explores the island the Sexy Beast actor likes to call his second home.
In the six-part series, Winstone travels the length and breadth of the island – accompanied by his friends, restauranteur Bruno Zoccola and sports broadcaster Matthew Lorenzo – taking in the history, food and culture of this corner of Italy in his own inimitable style.
Banijay Rights funded the project without attaching a broadcaster first. It is a model that is gaining popularity among distributors and has been used previously by the London-based company – for example, with its First Look TV-produced factual crime series Inside The Mind Of A Serial Killer.
Celebrating Sicily
Ray Winstone's World: Sicily is being produced by SWR Media in association with Dash Pictures.
However, Banijay Rights vice-president of acquisitions, sales and co-productions for North America Andreas Lemos says the idea came from Winstone himself: "He's got a house in Sicily and knows the island really well, so I guess this has been gestating in his mind for a couple of years."
Lemos says Winstone and his friends wanted to celebrate the island, its history and the culture in a funny and accessible way.
Describing the tone of the piece, he says: "This is not Simon Schama and never was it intended to be. Ray is very entertaining, but at the same time there's a lot of take-out – it covers everything from Greek temples to World War II landings, medieval torture chambers and ancient markets."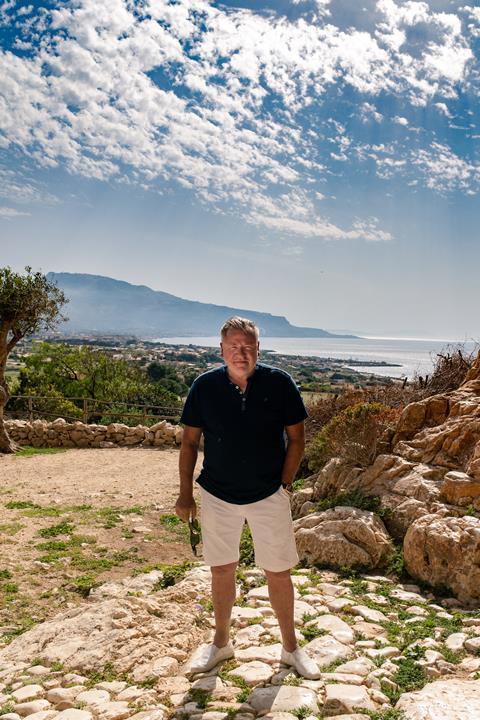 The show got off the ground when Winstone linked up with SWR earlier this year and his idea was moulded into a TV project that SWR founder Daniel Sharp took to Banijay Group's sales arm.
Lemos says that Banijay has been keen to work with Sharp for some time, following the work he did on Road Rivals, an SWR-produced factual entertainment series that paired Ewan McGregor's Long Way Round travel companion Russ Malkin with Britain & Ireland's Next Top Model judge Charley Speed on a series of travel adventures.
This was distributed by Cineflix Rights and found a home on Travel Channel and Discovery.
In turn, Sharp recognised Banijay Rights' experience in the travelogue genre through shows like Chris Tarrant: Extreme Railway Journeys – a Whitworth Media and Motion Content Group show for Channel 5 in the UK that is now on its fourth series.
"It was a perfect marriage," says Lemos. "We codeveloped it together a bit further and greenlit it pretty swiftly."
Banijay's decision to fund the series allowed it to shoot during a gap in Winstone's busy schedule – something that may not have been possible if it had waited for broadcasters or other partners to come on board first.
Winstone has worked with major directors such as Martin Scorsese and Steven Spielberg as well as acting alongside Jack Nicholson, Matt Damon and Harrison Ford.
His latest turn on the big screen is in King Of Thieves, a true-crime film about a crew of retired crooks who pull off a major heist in London's jewellery district, which was released in September.
Winstone has a global profile, which is perhaps biggest in the UK and US, and these are the key pre-sale markets on which Banijay Rights is focusing. The show will be a key title for the distributor at Mipcom.
Asked whether the show could become a returnable series, Lemos says Banijay would be keen to collaborate further with Winstone.
"We would love to do more with him and SWR if the schedules allow," he says. "We know that the market's responded really well so far to the show and to the premise."