"This is a modern retelling, but it tries to stays true to the legacy and feel of the original"
THE TWILIGHT ZONE
Distributor CBS Studios International
Producers CBS Television Studios; Monkeypaw Productions; Genre Films
Length 10 x 60 minutes
Broadcaster CBS All Access (US)
The names attached to CBS's reboot of classic anthology series The Twilight Zone are a veritable catwalk of US talent. Led by in-vogue director Jordan Peele and Simon Kinberg (the X-Men films), its stars include Adam Scott, Kumail Nanjiani, Allison Tolman, Steven Yeun, Tracy Morgan, Greg Kinnear, Seth Rogen and Chris O'Dowd.
"There's great talent in every episode," says Barry Chamberlain, president of sales for CBS Studios International (CBSSI), which is bringing the CBS All Access series to Europe this year.
Chamberlain will be hoping The Twilight Zone has the same sort of impact as Rod Serling's original on CBS in 1959, which brought together eerie elements of science fiction, fantasy and horror in standalone tales with twist endings.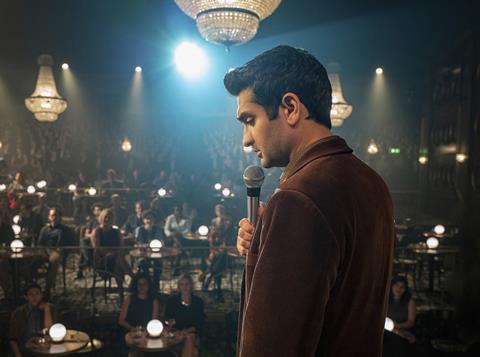 "The original Twilight Zone was a groundbreaking series that was unique and explored different approaches to conventional drama," he says.
"Hopefully, the new series will be true to the original in that sense. This is a modern retelling and you can't do it in the same way, but this tries to stay true to the legacy and feel."
He adds that the episodes, which include Nightmare At 30,000 Feet and The Comedian, will hold a socially conscious lens up to themes affecting humanity today, with the unsettling tone of the original.
CBS Television Studios began developing a new series in 2012 before it was worked into shape by Kinberg and Us director Peele, who is assuming Serling's on-screen role as host and narrator as well as fronting the project. This version represents a third attempt to reboot the franchise.
Two episodes of the series debuted on SVoD service CBS All Access on 1 April, with the others set to follow. In Canada, CityTV acquired the rights, suggesting Chamberlain and his team can expect plenty of interest across the streaming and linear sectors.
"This is a crowded content market and you need to cut through the clutter. We are focused on shows that have recognisable IP that hopefully rise to the top," Chamberlain says of CBSSI's sales strategy, pointing to The Twilight Zone as a cornerstone of the 2019 slate.
The CBS international sales head adds that such is the support for Peele's new series that it was selected for a sought-after ad slot during the CBS broadcast of the 2019 NFL Superbowl.
"If it's any indication of the backing CBS has for this show, it is that – you know what the cost of one of those is," he adds.
International drama
1

2

3

4

5

Currently reading

Hot Picks: The Twilight Zone

6

7

8