"You have to be brave enough to back this kind of material with the expenditure it requires to deliver creatively"
VIENNA BLOOD
Distributor Red Arrow Studios International
Producers Endor Productions; MR Film
Length 6 x 45 minutes; 3 x 90 minutes
Broadcasters ORF (Austria); ZDF (Germany)
Combining the fiction writing of clinical psychologist Frank Tallis and Sherlock scribe Steve Thompson, Vienna Blood looks like a drama that will take viewers on a winding journey through the human mind.
Based on Tallis's best-selling novel series The Liebermann Papers, the series brings together Red Arrow Studios-owned London indie Endor Productions and Austria's MR Film, for a period crime drama set in 1900s Vienna.
Max Liebermann, a student of 'father of psychoanalysis' Sigmund Freud, joins forces with detective Oskar Rheinhardt, who is struggling with a strange case. Harnessing Liebermann's prowess in perception, forensics and understanding of human behaviour, the duo investigate a series of unusual and disturbing murders.
Filmed in English and on location in Vienna, the series stars Matthew Beard (The Imitation Game) as Liebermann and Juergen Maurer (Vorstadtweiber; Tatort) as Rheinhardt.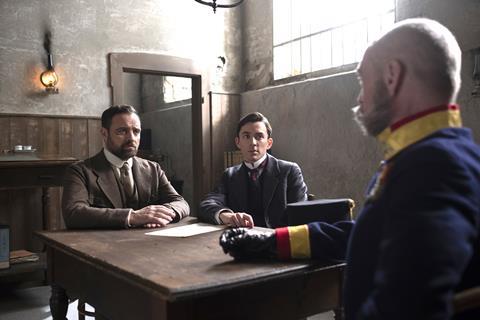 Vienna Blood is helmed by Academy Award nominee Robert Dornhelm (Anne Frank: The Whole Story) and Umut Dag (Cracks In Concrete), with Endor managing director Hilary Bevan Jones (Deep State; State Of Play) among the exec producers.
The high-end roster is mirrored by Vienna Blood's budget, in the $15-$20m (£11m-£15m) range. It has received funding from Televisionfund Austria, Germany's Niederoesterreich Kultur and Austria's TV-Filmfund.
"We were keen not to play the false-economy game of pulling downward, in budget terms, for a show that inhabits a specific period world in Vienna," says Carlo Dusi, executive vice-president of commercial strategy, scripted, at Red Arrow Studios International (RASI).
"While there could have been other versions of the show that would have cost less, been more manageable and had a lesser scope, for this kind of elevated material, you have to be brave enough to back it at the level of size and expenditure it requires to deliver creatively."
Dusi says the premium feel is only partly due to the investment, and the strength of the series is in its writing and production team. Bevan Jones and Thompson had prior experience of collaborating on a thriller, having previously teamed up for Deep State.
What makes Vienna Blood different is its multi-layered themes, including the birth of psycho analysis and the subsequent development of modern-day character profiling, and the rise of fascism and anti-semitism in early 20th-century Vienna, all wrapped up in the beauty of the culturally rich European city.
Artistic ambition
"The things that stood out were the ways Steve and Hilary had managed to combine the more traditional elements of a crime show – a mystery to be solved and a compelling investigator at the heart of it – with an overlayer of social issues and artistic ambition," says Dusi.
"It is all mixed together in a way that doesn't make the content in any way preachy or off-putting, but gives it the substance and layers that we feel are increasingly important in the market to make something stand out and feel premium."
While RASI has had to be clear in negotiations with broadcasters ORF and ZDF to ensure they have the rights and hold-backs required for their respective territories, the distributor will be able to offer deals for buyers spanning linear, premium cable and SVoD platforms.
Dusi says the show has "enough edge for the streamers and the cable players" but retains a "broad, accessible feel" that would work for a traditional broadcaster. RASI is in advanced talks with a UK partner, and has "an eye on other Englishspeaking territories".
Along with Beard, the show features Conleth Hill (Game Of Thrones) and Jessica De Gouw (Arrow). "Once we have the UK sewn up, North America will be our next priority, then all the key European territories because there is a genuine European feel to it," says Dusi.
International drama
1

2

3

4

5

6

7

Currently reading

Hot Picks: Vienna Blood

8