Traditional crafts people take on a variety of projects
MAKING IT
Distributor NBC Universal International Formats
Producers Universal Television, Alternative Studios; Paper Kites
Length 6 x 60 minutes
Broadcaster NBC (US)
Why settle for mass-produced when you can weave, churn and slow-cook your own? In the age of "authentic" unscripted, formats such as Making It are telling a handmade tale that follows a trail of artisanal breadcrumbs straight into the exploding do-it-yourself movement.
The Amy Poehler and Nick Offerman-fronted competition series from Universal Television Alternative Studio finds the former Parks And Recreation co-stars and craft aficionados shepherding America's top "makers" – traditional crafts people – as they take on a variety of projects.
Each episode sets the makers two challenges around a central theme that draws inspiration from a popular nationwide trend in crafting and DIY.
Universal Television Alternative Studios president Meredith Ahr says she and Paul Telegdy, president of NBC's alternative and reality group, bought the format in the room following a pitch from Poehler, who has an overall deal with the studio.
"When you step back and think about it, crafting has been around as long as humans have been on this Earth, and it has always crossed cultures," Ahr tells Broadcast.
"There are a number of young people who are crafting and making now in order to save money or express individuality, because they are just not satisfied with items that are mass-produced."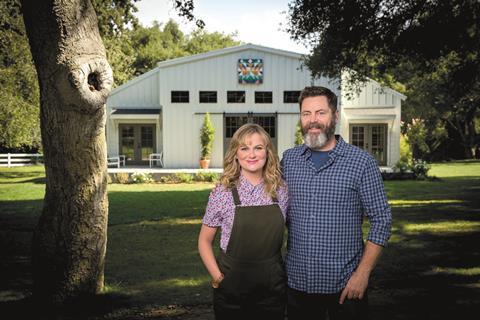 Ahr, who has produced hit formats such as NBC docu-comedy Better Late Than Never and gameshow The Wall, is keen to call the show's participants makers, rather than crafters, to broaden its audience appeal.
"What you're doing is making it more universal," she says. "We are always thinking about how things will travel, and whether this is something that structurally allows each territory to tailor-make it for their audience and their own unique needs."
Former Endemol exec Ana Langenberg, recently appointed senior vice-president of format sales and production for NBC Universal International Formats, says Making It is designed to be a co-viewing experience.
"When people think of crafting, they think of bows and buttons, but this is very much a mix of that and the heavier aspects of using wood and other heavy fabrics, which are interesting for men," she says.
Langenberg hopes the format will travel widely due to the cultural pervasiveness of crafting. "Although the US show will be made with a US budget, the show is very easily scalable," she says.
"You can produce it in countries with different cost levels. By finding the right presenters with a comedic background, this could have appeal anywhere."