Preserving disappearing artisanal practices
THE ARTISAN
Distributor Fremantle Media
Producer Fremantle Media France
Length 8 x 60 minutes
Broadcaster France 3
Commercial broadcaster France 3's The Artisan is taking a distinctive approach to the DIY theme, focusing less on revealing tricks of the trade, and more on the preservation of disappearing artisanal practices.
The format, which aired earlier this year, finds a group of artisans who are looking for the next generation of makers in their respective fields, with real jobs waiting for successful participants at the conclusion of the show.
Fremantle Media director of global entertainment Rob Clark describes the series as "addressing a real need" in France.
"On one hand, artisanal crafts have never been so popular, but on the other, they are hanging on by a thread because the skills are not being passed on," he says.
"We have used glassmakers, a cheesemaker, a sweetmaker and a lutemaker – crafts that are not part of the every day. These people are out there and they can't find apprentices."
Selecting candidates
Candidates are selected to work in eight different fields, with each one undergoing a rigorous immersion in their chosen craft over eight episodes as the artisan determines who they will ultimately hire – from just one apprentice to the entire group.
Clark says the show harks back to Fremantle's hit dating format Farmer Wants A Wife, in which country farmers look for a partner from the city.
More than 31 local versions of that show have been made in markets including the UK, France, Spain, Sweden, Austria and Norway, among others. "It's the same DNA," he says. "Only here, craftsmen are looking for partners, in a business sense."
Another hallmark of the format is its regional focus, says Clark. The French show takes place outside of Paris, and a UK version would similarly look to film outside of London.
Fremantle will target its sales strategy on Europe, particularly central Europe and Scandinavia. Clark notes, however, that The Artisan is "not the sort of programming that's very popular in Asia".
"The economics of it don't work," he says. "It would need to be stripped daily or big."
"It is an authentic show and has at its heart something good in that there is a job at the end"
Rob Clark, Fremantle Media
Clark adds that The Artisan could sit on a public broadcaster, but could just as easily play on a commercial channel.
"Because it is an authentic show and has at its heart something good, in that there is a job at the end of it for contestants, it is not solely a public service show. It's quite a broad show with wide appeal," he says.
Clark says budget-friendly formats are becoming a necessity, and will be a major trend at Mipcom.
"Free-to-air broadcasters are having a tough time. If you are not budget-friendly, forget it. My job is to make sure there is something for everyone when we get to the market," he says.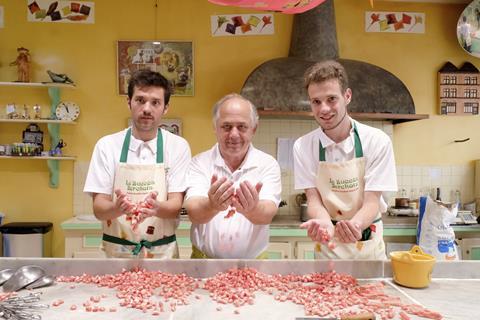 He adds that there are still "a lot of gameshows around" as well as standalone entertainment. "We've got a few shows that are based on music or singing, but not singing shows," says Clark. "These are shows that are using song to tell a different story."
Earlier this year, Fremantle Media sold Indonesian musical talent show format Just Duet to Portugal, while cooking format Familiar Taste, Fremantle Media's first Chinese format, unveiled at MipTV, is being discussed with several different territories.
Get The F*ck Out Of My House, which debuted at Mipcom 2016, has now been sold into Brazil, Germany and Ukraine.
The American Idol distributor is also celebrating the 10th anniversary of its partnership with Fuji TV at the market – an enduring relationship that has produced globally successful formats such as Hole In The Wall, and which Clark calls "without a shadow of a doubt the mega-deal of any Asian deal"