Reinventing the gameshow genre
THE BUTTON
Producer Avalon Television
Distributor Avalon Distribution
Length 8 x 30 minutes
Broadcaster BBC1 (UK)
Five families will battle it out in a series of physical and intellectual challenges in this primetime gameshow for BBC1. The twist? The show will take place in their own living rooms, rather than a shiny floor studio.
The eight-part series is produced by Taskmaster and Last Week Tonight With John Oliver indie Avalon Television.
Founder and managing director Jon Thoday says that for The Button, he tasked his development team with reinventing the gameshow genre.
"I felt like the talent show had been reinvented but the gameshow hadn't. Going out to the country rather than having the contestants come to a shiny fl oor studio felt like a good thing to do."
Once his development execs had come up with the idea of a show controlled by a high-tech button in people's living rooms, he involved Taskmaster creator Alex Horne and director Andy Devonshire (The Great British Bake Off; The Apprentice) to develop the idea further.
In each episode of the show, which debuts in the first half of 2018, five families or friends compete to see who can complete a task in the quickest time.
"We found that mundane challenges are often the funniest – for instance, which family can get the most people in their front room in 10 minutes. One of the families went to their local church and won," Thoday says. The winner of each episode can choose to carry on to the next episode or take a cash prize.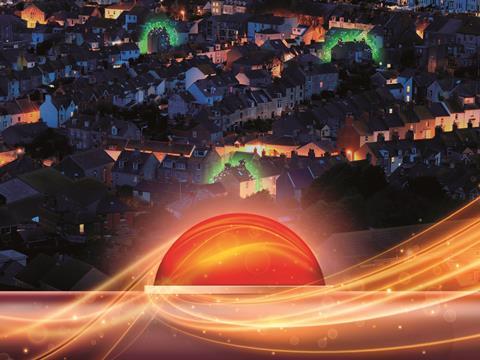 He admits that it's a tricky show to produce, with directors in each of the five homes all connected via a "nerve centre".
"It's a big, exciting show and there are a lot of people involved in making it," he says. "The edit takes ages because it's all built in the edit. It's much bigger than Taskmaster."
BBC controller of entertainment Kate Phillips, who commissioned the series, says she had been looking for formats that made her "shout or shiver".
"Entertainment in family homes is not a new idea – I used to work on Down Your Doorstep on The Big Breakfast and there's Ant & Dec's Saturday Night Takeaway and Noel's House Party – but they've all been strands in bigger shows," she says.
The Button, which Thoday and Phillips describe as "warm" and "joyful", was not commissioned to a specific slot. Phillips says: "It was more expensive than a teatime tariff but not quite primetime.
Charlotte Moore said: 'Forget about that, it's a good show, commission it and we'll fi nd somewhere', which is really important for entertainment."
Thoday hopes it is given the chance to develop into a show that could work in an early evening Saturday night slot, similar to Avalon's ITV origination TV Burp.
"With a new show, no one wants to be in primetime on Saturday nights initially. We'd like to build the show."
Avalon is hoping The Button can become one of its biggest inter national sellers. Isobel Hughes, director of Avalon Distribution, which distributes formats including Taskmaster and scripted shows such as Catastrophe, says it will have "quite a big presence" at Mipcom.
Hughes says she is confi dent of striking several deals and is targeting broadcasters in Australia, Scandinavia, Spain and Italy.