Follows a unit of Royal Military Police during the last days of the British Empire in Aden
Distributor BBC Worldwide
Producers The Forge; Bonafide Films
Length 6 x 60 minutes
Broadcaster BBC1 (UK)
In a disused training base in Simonstown, near Cape Town, the crew of The Last Post had to deal with some unusual interlopers.
"When we started there, the base was practically deserted," says production designer Darryl Hammer. "As more people came, we'd naturally generate more and more rubbish, and the local baboons got more and more interested in the bins and the bananas in our cars and lunch packs."
No one was under any illusion that baboons are cuddly. "They're aggressive," says Hammer. "A couple of times, we'd see them sitting on the roof and we'd have to scatter – they're dangerous and they're big. You would not approach a baboon."
Simonstown doubles as the former British colony of Aden, the setting for Peter Moffat's BBC drama about a unit of Royal Military Police in the last days of the British Empire.
"It's almost spot on, so close to the real bases," says Hammer. "Part of it might have been built in the 1940s and 1950s, then they added a bit on and so on. Stylistically, a base has a 20-30 year range of different types of outbuildings and huts and tents. It's not one architectural flavour."
This is a personal piece for Moffat, whose father was an officer in Aden at the time. His childhood recollections are of a place that mixed glamour with danger.
"My parents would go to the officer's mess five nights a week. And then in the daytime, my dad had a gun"
Peter Moffat, writer
His sister, for example, was born in the back of a Land Rover with an armed escort. But he also remembers people swilling gin and tonics and dancing at the BP (British Petroleum) Club.
"As a four-year-old, obviously I knew nothing of the politics of what we were doing," he says. "But I remember my mum and dad dressing up tremendously at night. Dad wore dress uniform, red stripe down the side of the trousers and spurs on his boots. Mum wore a dress to die for.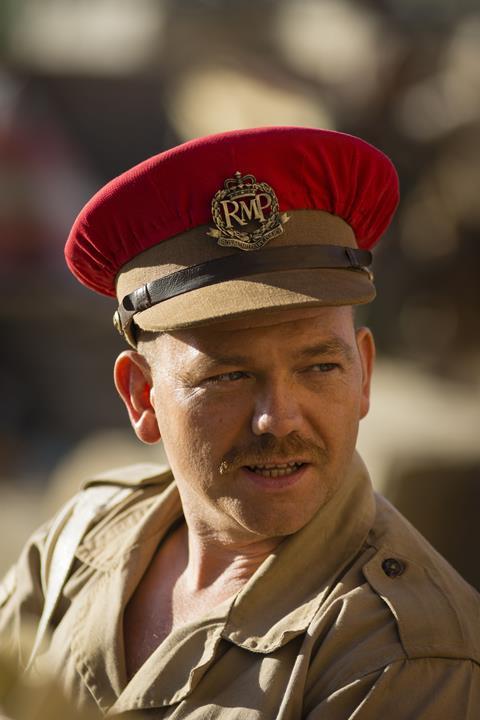 "Five nights a week, they'd go to the officer's mess. Dad would have his hair mercilessly brylcreemed back. It was just really exciting. And then in the daytime dad had a gun."
Guns, glamour and restless natives provide fertile ground for drama. Into that mix, Moffat has written three female characters, whom he uses to explore the changing role of women as the 1960s start to swing.
One of these is Alison Laithwaite (Jessica Raine), an alcoholic with a failing marriage who cares not a jot for the hierarchies and procedures of the army. Raine says her research for the role led her to online forums where people spoke of Aden as an idyllic place where you learned to live with the dangers.
"People who were there said: 'I can't believe that we were out there when grenades were getting chucked at us on the roofs of cars.' They had to put netting up so that the grenades would bounce out again."
For cast and crew, the only danger came from the local wildlife – not just the baboons, but the jellyfi sh Raine encountered when filming a diving scene. "Mind you," she says. "That was nothing compared to the scene with the live scorpion…"
The series is BBC Worldwide's big drama bet in Cannes, where the distributor will also be continuing to sell Cuba Pictures' McMafia, the James Norton-fronted thriller that it launched at Mip TV.
Mipcom Hot Picks 2017: British drama
1

Currently reading

Hot Picks: The Last Post

2

3

4

5

6

7

8