'We have stripped back the layers and people have told us what they think about, in some cases, quite controversial subjects'
Distributor Passion Distribution
Producer Firecracker Films
Length 6 x 60 minutes
Broadcaster W (UK)
Having received its debut on W in the UK, Stacey Dooley Sleeps Over heads to Mipcom with broadcasters from several European territories, including the Netherlands and Norway, already on board.
Passion Distribution director of sales and co-productions Nick Tanner says the six-part series has attracted a lot of interest due to Stacey Dooley being a well-recognised and respected TV journalist, and presenter of hard-hitting documentaries such as My Hometown Fanatics, Hate And Pride In Orlando and Young Sex For Sale In Japan.
Commenting on the new series, in which Dooley – who first came to the attention of UK audiences in BBC3 reality series Blood, Sweat And T-Shirts – spends the weekend with some of Britain's most unusual families, the presenter says the experience was a lot lighter than many of her past documentaries and had plenty of heart and humour.
"In this series, we have stripped back the layers and the niceties and people have told us what they think about, in some cases, quite controversial subjects," says Dooley.
Developed and produced by Firecracker Films, one of Passion's sister companies in the Tinopolis Group, Tanner says the series was fully funded by UKTV and had been a long time in development before it launched on female-skewed W in September.
"Stacey was really keen to film a series about 21st-century family lifestyles and that aspiration was matched by Firecracker's ability to tell stories in a really unique and purposeful way," he says.
"Whether it is staying with a thruple [a three-person couple] or the UK's biggest YouTube family, Stacey throws herself into their family life to get a real sense of what it is like to live in these households."
Tanner says Dooley's last sleepover was particularly moving. She stayed with a Mormon family who were waiting to hear where their eldest son was about to be sent for a two-year mission to promote the church.
Tanner says his gut feeling is that Stacey Dooley Sleeps Over is primarily a linear property that is well suited to factual, factual entertainment and lifestyle channels. "My inclination is for broadcast, but we would be delighted to hear otherwise from VoD partners," he adds.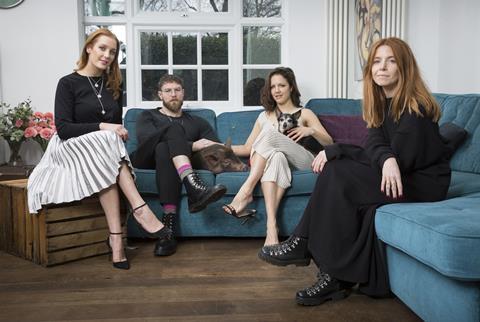 Doubling the slot average for W over its first three episodes, Tanner says the series has performed well in the UK and could also capitalise on its strong press coverage.
"We had a showcase event in London last February to launch the show and we have received a lot of interest since then," says Tanner. "We have approached this in a very targeted way and have promoted the series to a select and specific client base where there is already an interest in Stacey and her projects."
Tanner says the series has a natural female lean but with cross-generational appeal. Having already secured presales at Mip TV, Tanner hopes the momentum can be carried on to Mipcom and that the ratings success can be used as leverage to secure further deals.
"Stacey is a star, so there will be a natural interest in this," he adds. "As soon as the project was announced, we had broadcasting partners reaching out to us."
Passion has worked on several previous Dooley projects with Tinopolis stablemates, including Mentorn Media on Beaten By My Boyfriend, and third parties, such as Renowned Films on Hate And Pride In Orlando. Tanner says the new series will likely increase the lifespan of these docs, leading to extra sales at Mipcom.