SVoD giant will aim to launch at least three more originals next year
Chief content officer Sean Carey
Territory reach Malaysia, Indonesia, Philippines, Thailand, Brunei, Sri Lanka, Pakistan, Myanmar, Vietnam, Maldives, Kuwait, Bahrain, Saudi Arabia, Jordan, Iraq, Lebanon, Egypt, Sudan, Cambodia, Nigeria, Ghana, Kenya
Content breakdown 97% acquisitions; 3% originals
2018 originals Oi! Jaga Mulut (Indonesia, Philippines); The Magic Hour; Coconuts TV
As a regional SVoD giant, iflix is pursuing an originals strategy across 22 territories in Asia, Africa and the Middle East. The streaming service is on the lookout for competition formats and opportunities to remake existing IP in its markets.
The three-year-old platform's LA-based chief content officer Sean Carey tells Broadcast that its viewership data is "trending towards regional and local content", as evidenced by its first original, the comedy format Oi! Jaga Mulut (Shut Your Mouth), which features new stand-up talent.
The seven-parter was launched in iflix's largest, and home, market of Malaysia in July, and will next roll out in its second and third largest markets: Indonesia and the Philippines.
"With our footprint, we are interested in competition formats that would have contestants from multiple territories
Sean Carey, iflix
Carey, who joined iflix in March, is a former vice-president of global television for Netflix. He says formats are an area the company will "absolutely look for" in the future.
"You can imagine, with our footprint, that we are interested in competition formats that would have contestants from multiple territories," he says.
The platform will also aim to remake or continue existing IP, as it is doing with its second original: scripted Indonesian drama series The Magic Hour. It carries on from a box office-smashing 2015 Indonesian romantic comedy feature.
"Similarly, we have been looking for and developing IP that existed in some other form – usually a feature film that we can make into scripted drama," says Carey.
"We are then targeting a single market with the hope that it has impact both from a PR and a viewing standpoint to expand our footprint."
Iflix will aim to launch at least three more originals next year, including a feature film in the Philippines, a news magazine show called Coconuts TV and at least one other scripted drama.
However, it will not be looking to join the ranks of high-end drama production for a global audience. "Our originals strategy is not making global $100m [£75m] scripted drama like Netflix or Amazon," says Carey.
Iflix's plan for big-budget drama is to partner with others and pre-buy at a very early stage, or to work via co-productions.
"It would be an original in that it premieres in our market on iflix first, but not original in any other form," he says. "We would not be spending the $5m-plus it would take to make that ourselves."
Evolving model
Carey admits that iflix "ripped a page out of Netflix's playbook" before it entered emerging markets by licensing a Western catalogue sprinkled with local content.
However, it has "evolved from the launch model" by localising the vast majority of its content into relevant languages, and offering services such as live-streamed concerts and sport.
Carey says iflix has been able to expand so rapidly by forging "good relationships with local regulatory bodies.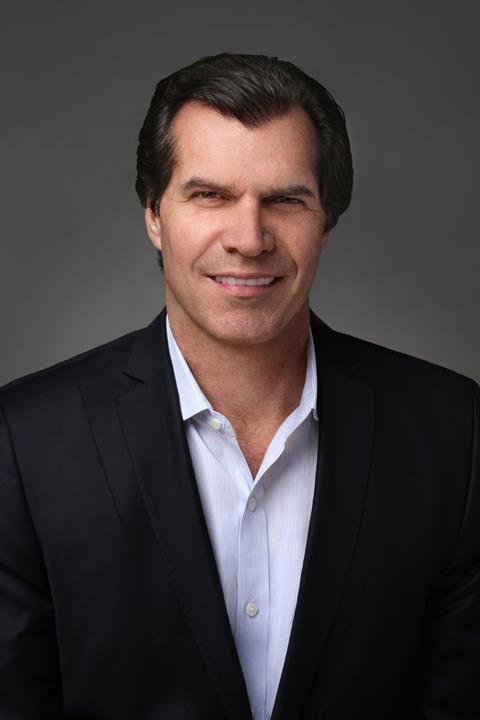 "We are more respectful of a country's guidelines than some competitors are, and it has benefited us," he adds. For example, iflix was the first foreign company to receive an operating licence in Vietnam.
This year, the platform has raised more than $220m (£170m) in funding rounds from backers including Sky and Liberty Global, which will feed into its originals strategy, content licensing, marketing and infrastructure.
Carey says it is having "arms-length discussions" around content licensing. The investment, he says, is more around the pay-TV broadcaster and Virgin Media parent having distribution assets in iflix's territories.
"Neither has a presence in emerging markets from a platform perspective," he adds.
In most territories, the SVoD service is largely reliant on telecom partners and, as a result, more than 70% of subscribers view iflix content on a mobile device.
As a result, it is developing a short-form series with Disney's Maker Studios, "which may have the added benefit of leveraging Disney brands", says Carey.
Disney launched a branded channel on the platform to further its reach in emerging markets, just weeks after pulling its films off Netflix. "Emerging markets are very different animals from mature markets.
I can see how that would lend to a different decision," says Carey. "Our discussions with Disney have been around how we can work together to elevate its brands and, in some cases, introduce its brands. It had no history in Myanmar prior to us."
Iflix costs roughly $2-$3 per month, depending on the territory. Carey predicts the price point may fluctuate over time, but the "the key attribute will always be that we'll be a low-cost alternative targeted at a mass audience".
Global Focus: HBO, iflix, Stan, Sundance TV, TNT
1

2

3

4

Currently reading

Iflix: on the hunt for formats and remakes

5

6

7

8