"Game Of Games took off in a bigger way than I could have imagined. It's funny and it's fun"
GAME OF GAMES
Distributor Warner Bros International Television Production
Producers Warner Horizon Unscripted; Alternative Television; Telepictures; A Very Good Production
Length 8 x 60 minutes
Broadcaster NBC (US)
Ellen DeGeneres seems to have the Midas touch. Hot on the heels of exec producing NBC hit Little Big Shots, her latest unscripted series Game Of Games was the biggest non-scripted series launch in two years when it debuted on NBC in January.
DeGeneres hosts and executive produces the series, which is called Ellen's Game Of Games in the US.
Contestants selected from a live studio audience participate in super-sized physical games, stunts and quizzes, with the chance to win $100,000 (£70,000).
For example, in one game segment called You Bet Your Wife, two women are suspended in the air while their husbands answer questions. In they answer incorrectly, their wife is dropped 30 feet into a pool below.
Other games include Master Blaster, where losing contestants are blasted into the air, and Dizzy Dash, in which they are spun around to disorientate them before racing to grab a ball on a podium.
The format is fun and fast-paced and aimed at a family audience. Many of the games are souped-up versions of ones that have previously played well with audiences on DeGeneres' daytime talk show.
"The producers came to me and said: 'We think if we put all the games together we could have an actual primetime gameshow'," recalls Mike Darnell, president of unscripted and alternative television at Warner Bros.
Game Of Games has been renewed for an increased 13-part second series in the US, having averaged 8.1 million viewers on NBC and played well with the 18-49 age group.
"It took off in a bigger way than I could have imagined. It's funny, it's fun, and at a time when there's so much stress in the world, it's a place to come and not think about things," says Darnell.
Little wonder, then, that having proved itself in the ultra-competitive US market, the format has already attracted attention from broadcasters around the world.
"We're already in discussions in a range of territories," says Andrew Zein, senior vice-president of creative, format development and sales at Warner Bros International Television Production (WBITVP), adding that one deal has already been done.
Audience interaction
WBITVP is looking to produce local versions of the show in the 16 countries where it has production operations, with a focus on territories such as France, Germany, Spain and Australia. Where WBITVP has no local production capability, it will license the format to a third party.
Zein sees it as a format that's well suited to big local broadcasters rather than an international OTT player, mainly because it plays best when hosted by a well-known talent in front of a local audience.
Indeed, much of the show's fun and entertainment stems from the interaction between the host and the audience, which means it has to be filmed locally.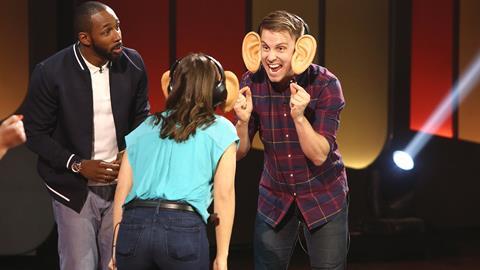 That is a potential problem for a show like Game Of Games, which requires an expensive and complex set build thanks to the scale of its games.
"The big question for us was how to deliver it in local markets where they might not have the budget," says Zein.
Many formats would choose to reduce costs by following the hub model – constructing a single set in one country and shipping in the hosts and competitors to film local versions there.
But this doesn't work for a primetime show like Game Of Games, given that it needs to be filmed in front of a local audience.
WBITVP has followed a different route to keep production costs competitive: it is building a set specifically for the inter national market that can be shipped out to be assembled by the show's rigging experts in a local studio.
"Anything you can do to keep it competitive is a great help," says Zein.
Hot Picks: Mip TV's best formats
1

Currently reading

Hot Picks: Game of Games

2

3

4

5

6

7

8

9

10

11

12