'A unique piece of TV, which is long overdue'
Distributor TVF International
Producer Attitude Pictures
Length 3 x 60 minutes
Broadcaster TVNZ (New Zealand)

Down For Love is a three-part documentary that provides a fresh and uplifting insight into the lives of six young people looking for love. While that may sound like a thousand other shows, what makes this one distinctive is that the stars have Down's Syndrome.
The series was created for New Zealand public broadcaster TVNZ by Attitude Pictures, an organisation that has built up a strong reputation for making TV and web programming about people with disabilities.
Global distribution on Down For Love is handled by TVF International (TVFI), which has a first-look agreement in place with Attitude.
TVFI head of acquisitions Will Stapley says the producer stands out because it makes shows that are both "entertaining and purposeful, adding: "Its philosophy is that the greater the exposure the public has to various forms of disability, the greater understanding and acceptance there will be."
Stapley calls Down For Love "a unique piece of TV, which is long overdue". He notes a shift towards programming about people with disabilities, through shows such as Love On The Spectrum and The Undateables, "but nothing provides this level of access and insight into the lives of people living with Down's Syndrome".
Set up as an ob doc, the series follows six young people navigating the ups and downs of modern dating. In episode one, the focus is on 21-yearold party boy Josh and 19-year-old actress Libby – neither of whom has ever been on a date before.
Episode two continues to explore Josh and Libby's journey but also introduces 22-year-old cosmetics salesperson Leisel and 30-year-old photographer Carlos. The final episode extends the narrative by introducing thirtysomethings John and Lily, the latter a stage performer with a passion for The Lord Of The Rings.
The style of the series, says Stapley, is as hands-off as possible so that every moment is captured without artifice or any set-up construct. But while it doesn't flinch from exploring the social challenges that the six stars face, "the story is told with respect and humour", he adds.
"One of the things that really sets Attitude's film-making apart is that it gives its characters genuine agency. Because it is a disability-first production company, its programming has authenticity and integrity."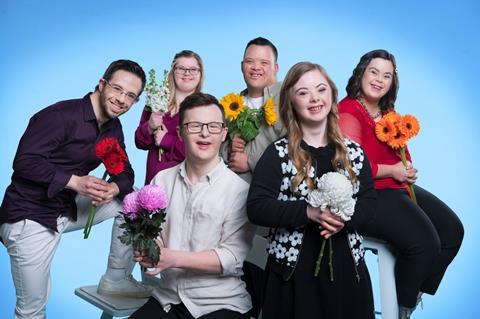 The series is currently in postproduction – and the plan is to show an episode at Mipcom. Stapley says the three-part format can work as a limited factual event, "but the team has been working hard and it is looking good for two more episodes to be added to season one to make it 5 x 60 minutes, with a second series to come in the new year".
He adds that the show has the kind of beats that would make it work well as a format. "And Attitude has the expertise to feed into areas like casting and safeguarding, for example. They really understand the duty of care to the protagonists and have counsellors on hand in case the process gets too overwhelming for them."
Stapley sees PSBs as an obvious port of call – and is in no doubt that the story has universal appeal. While series about people with Down's Syndrome are rare, actors with Down's Syndrome have appeared in several high-profile TV series, including Tommy Jessop in Line Of Duty and Lauren Potter in Glee. "Besides, this is an uplifting story about people looking for love, which is about as universal as it gets."